*NO LONGER BEING SOLD*


The hardest part of Contracts might not be managing the agreements themselves or sending them out to people; it might be keeping record of who signed what and when they did it. Fortunately, PactSafe makes keeping records of Signer activity on a Contract so easy and automatic that you'll hardly know it's there.
You can see the activity for a Signature Request in the Request itself. Use these steps to find it:
From the Dashboard, click the Signature Request that you want to see activity for. Tip: If you're having trouble finding what you need, use the magnifying glass at the top of the list to search for a particular Contract by name.

Click the activity tab in the panel on the right.



3. Information like the following appears.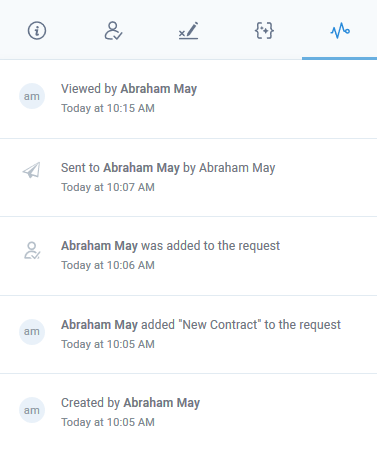 You can look at the activity for any Contract, whether it is in Draft, Sent, Open, or Complete status. This panel shows the date, time, and person who performed activities like:
Creating

Adding Contracts

Adding Signers

Sending

Pausing

Resuming

Viewing

Sending Reminders

Signing

Completing

With this information, you can check on your outstanding Signature Requests to see if there are any hold-ups. You can also demonstrate that a person signed a Contract at a certain date and time. The activity, Signers, and text of the Contract are all right at your fingertips.