*NO LONGER BEING SOLD*


Chances are you've found your way to the menu on the left-hand side of your dashboard and have found where you can upload or create a Contract. Sweet! After the Contract has been created and published, you are ready to send it.
(Not there yet? Learn about creating Contracts here, first! )


A PactSafe Contract is like a Contract template: when you sent a Signature Request, you choose a Contract (template) and populate its fields with the specific information for the Signer that you're sending it to.


To send a Contract, choose Send Contract from the left-hand navigation bar in your dashboard. You can either upload a Contract from your computer or select one from your Contract repository. If you know the Contract is already in your PactSafe account but you can't find it, check out this document about finding the right Contract to send.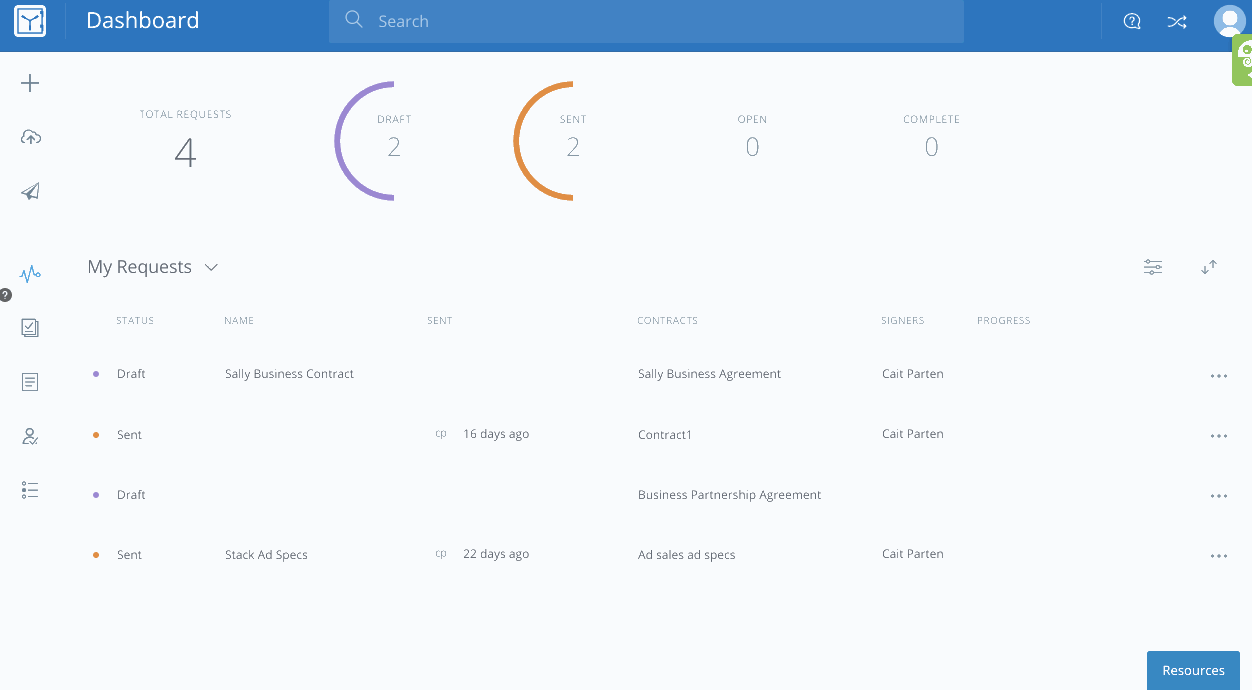 Note: Choosing a Contract here doesn't instantly send it to anyone. It just moves you to the next step of customizing your Contract prior to sending.

Specifying the Signers and the Signing Order
At this point, it is possible for you to edit the Contract you selected from the repository, but we're going to assume that the Contract doesn't need any editing. Most (or all) of the time that's going to be true.


Before you can send the Contract, you need to decide whom to send it to. Click the Signers tab on the right-hand side of the screen to add one or more Signers. Start typing an email address or phone number in the Signer field: If anyone in your account has sent to that Signer before, the Signer will appear and you can just click it. If this is the first time for sending to this Signer, though, a button to add that Signer appears. Click it to see the fields where you add the rest of the Signer's information.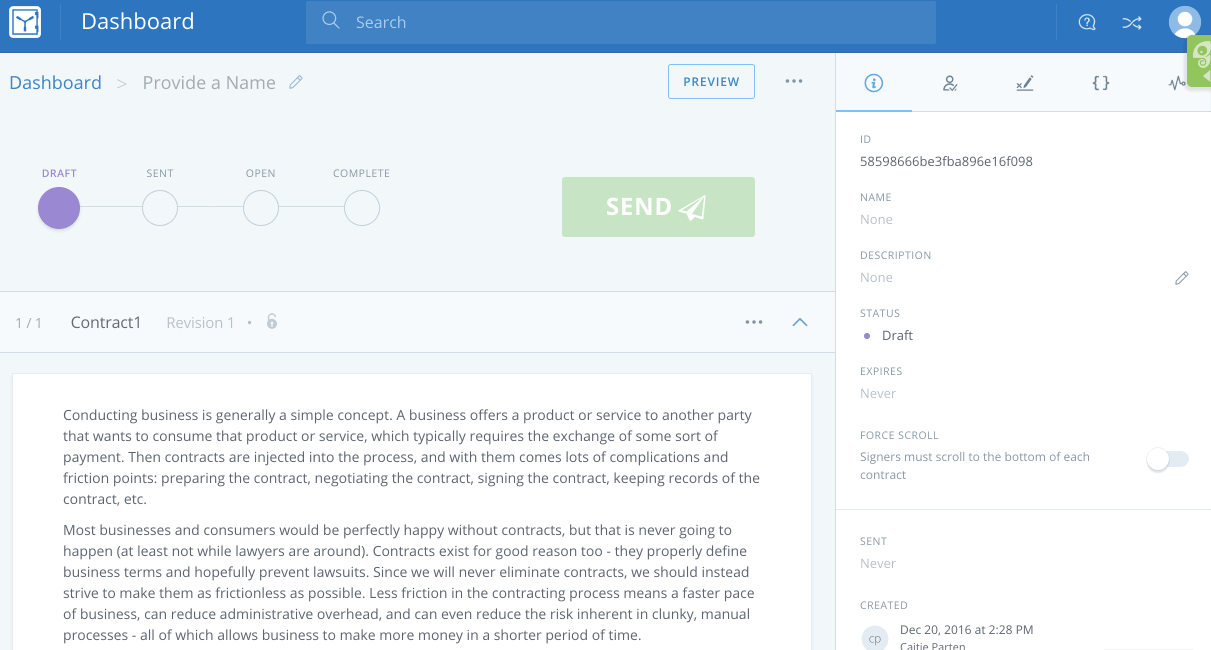 On the Signers tab, you can toggle the switches to confirm a signer's identity and even designate signing order for your signers if there is more than one person signing the Contract.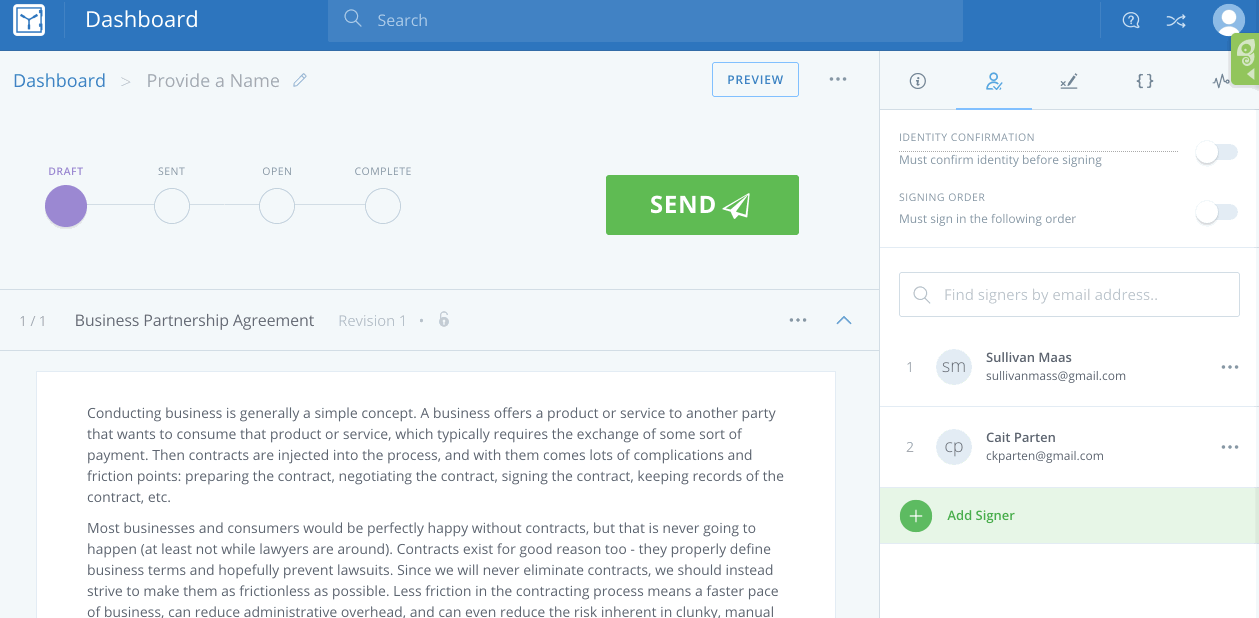 After you've added one or more Signers to your Contract, click the Fields tab and assign a Signer to the signature field and any other fields in the Contract.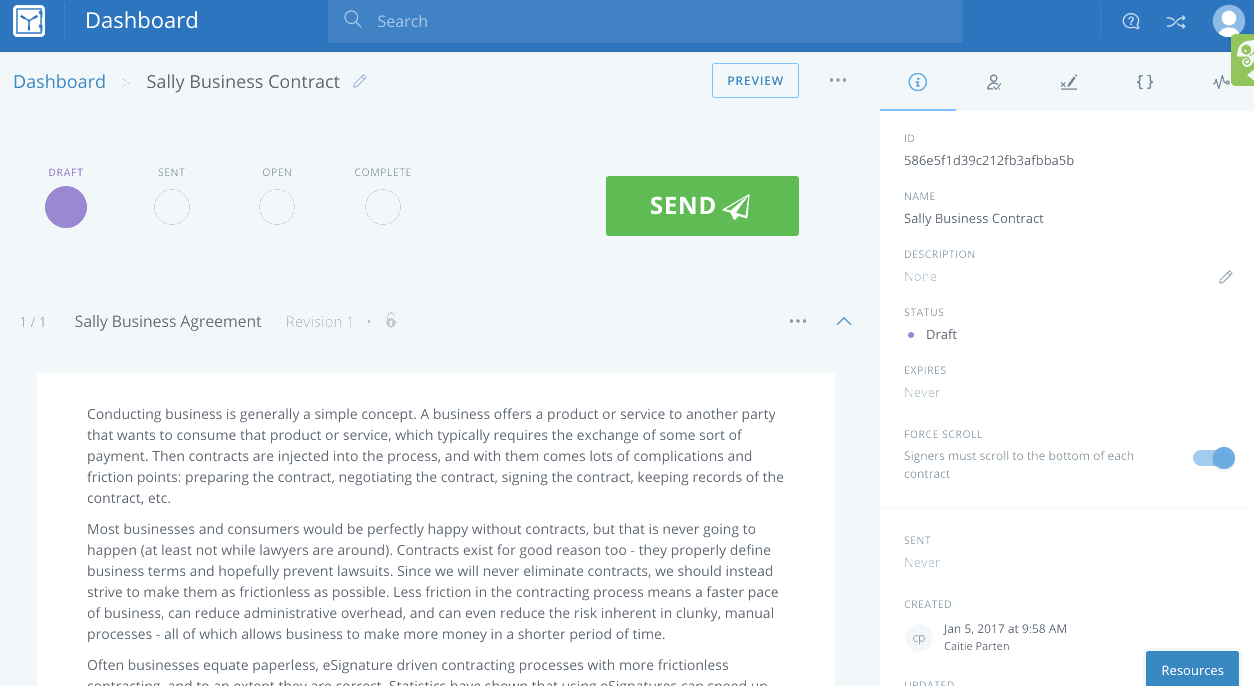 Previewing and Sending
After a you added the Signer(s) and assigned the fields, your Contract is ready to preview. Select Preview to view your Contract prior to sending and double check that your Contract is ready to go.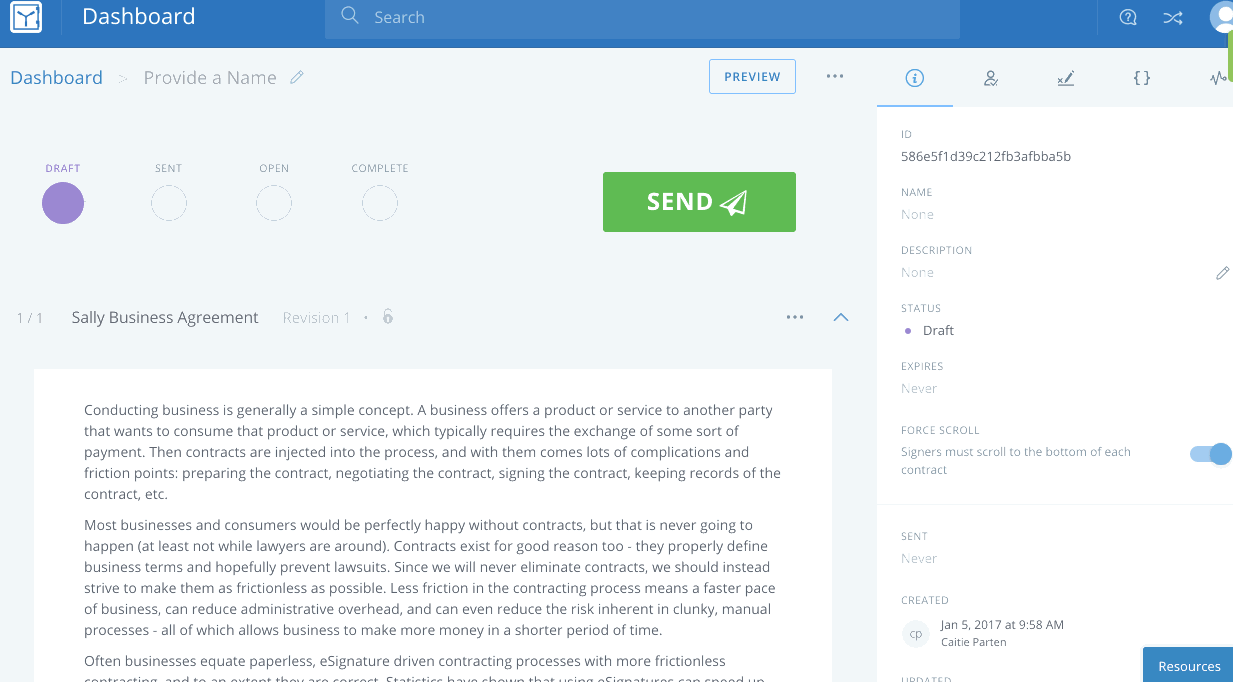 It's time to click Send! A window pops up where you can customize the message in the email that the Signer will receive. Tip: This is a great chance to refer to something specific from a conversation you had with the Signers so they remember what the Contract is all about and trust that it is really from you.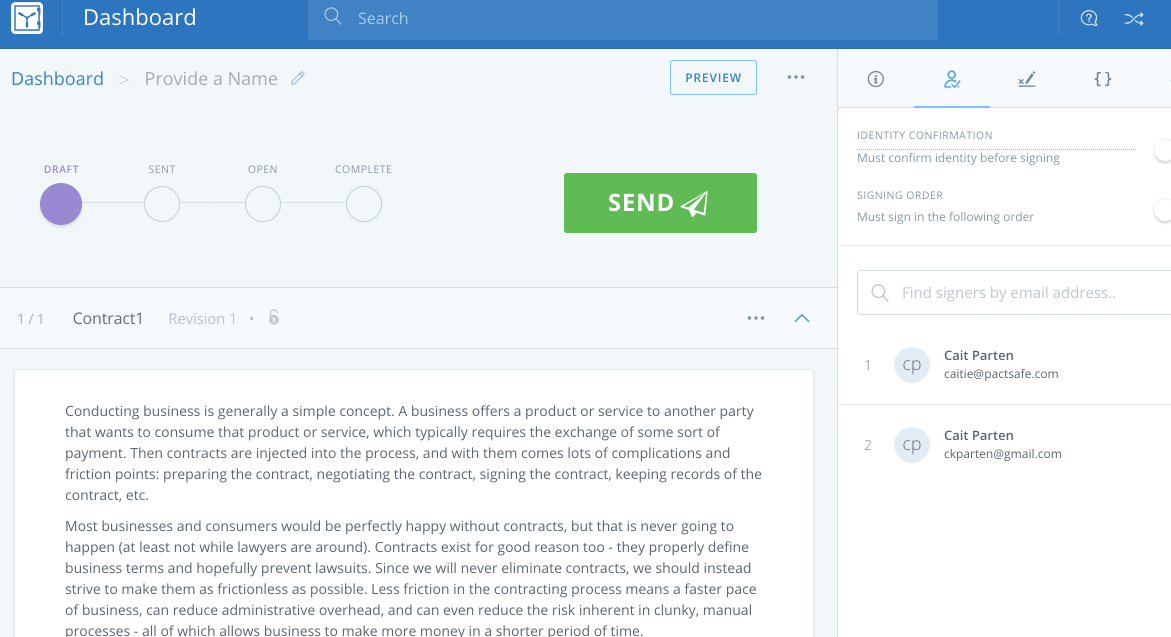 Once you've crafted your email message, press the SEND button, and your Contract will be delivered in an instant!

After sending a Signature Request, you can click a sent Contract from your dashboard and keep tabs on the status to see when it was sent, opened, and completed. You can also re-send the Contract from here in case something happens, like the Signer lost the email.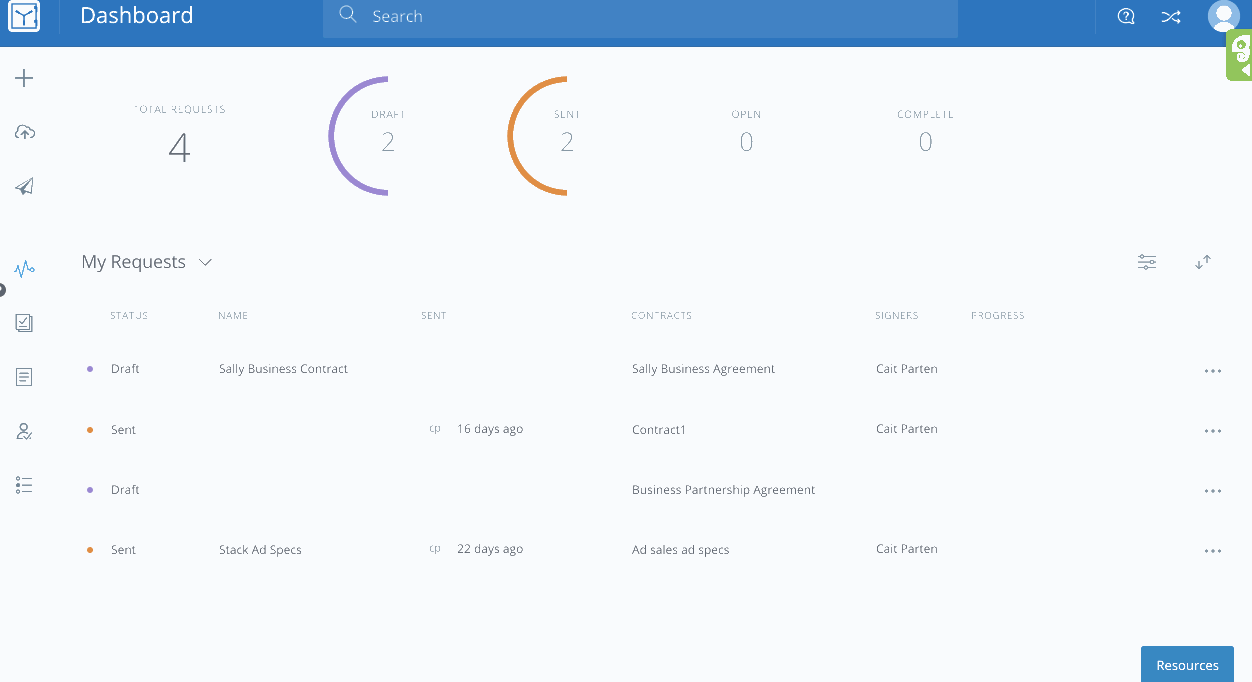 More questions? Just fire up a chat or email us at help@pactsafe.com.