Let's talk Contract screen! You get here by clicking the Contracts icon on the navigation menu on the left.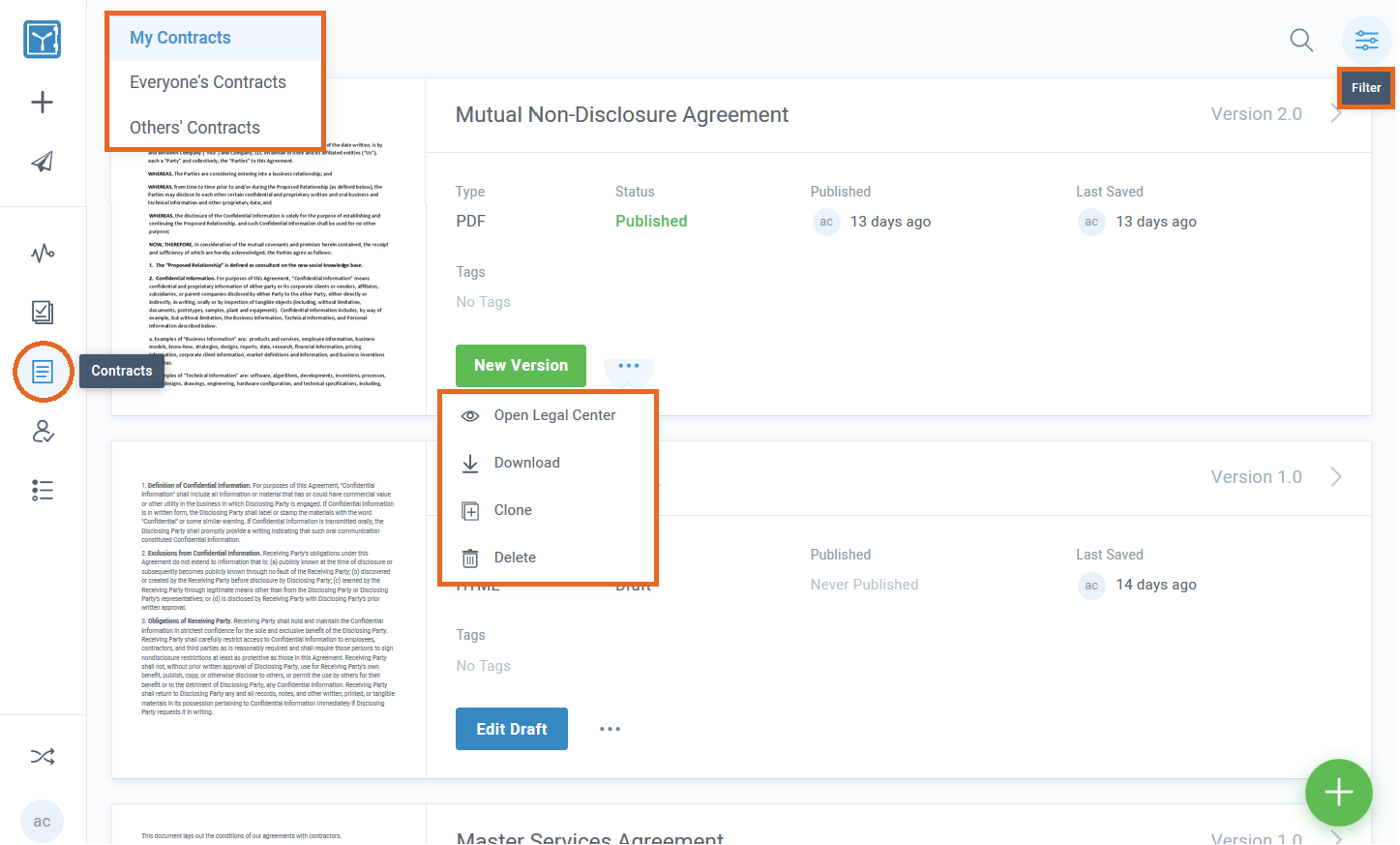 On the top left of the screen, you can change which Contracts appear by selecting:
My Contracts: See only the Contracts you created.

Everyone's Contracts: Look at the Contracts created by all the users in your account.

Others' Contracts: Check out the Contracts created by the users in your account other than you.
On the top right are the Search and Filter buttons:
Search: Want to pull up a Contract quick? Simply click the magnifying glass and search a keyword.

Filter: Click the Filter icon to display the Filter Contracts panel. On this panel, you can filter the requests in the list byType (HTML or PDF), whether it's Published, whether it's Public, and whether it's Shared.
Every Contract that matches the filter you set up has a card on this screen. You can click the title of the Contract to see how it's been performing, or use the buttons on the bottom of the card.
First, you'll notice the blue Edit Draft or green New Version buttons. An Edit Draft button means that the most recent draft of the Contract hasn't been published. Meanwhile, the New Version button means that the most recent version of the Contract is currently live, so if you want to make changes, you'll need to create a new version.
The menu button (...) next to the blue or green button lets you choose to:
Open Legal Center to see the Contract as people see it on your Legal Center. This option appears only if you chose to publish the Contract to your Legal Center.

Download a copy of the Contract as a PDF (even if you created the Contract in HTML).

Clone the Contract. This button works great for duplicating a Contract so you can edit just a few specific sections.

Delete the Contract.

Tip: Ready to start something new? Click the plus in the green circle to start a fresh new Contract or check out the Contract Administration overview for an overview of everything that's possible!