From the main dashboard, you can see a button in the upper right hand corner that says "Prepare Contract", with the same paper airplane icon you might remember from PactSafe Classic.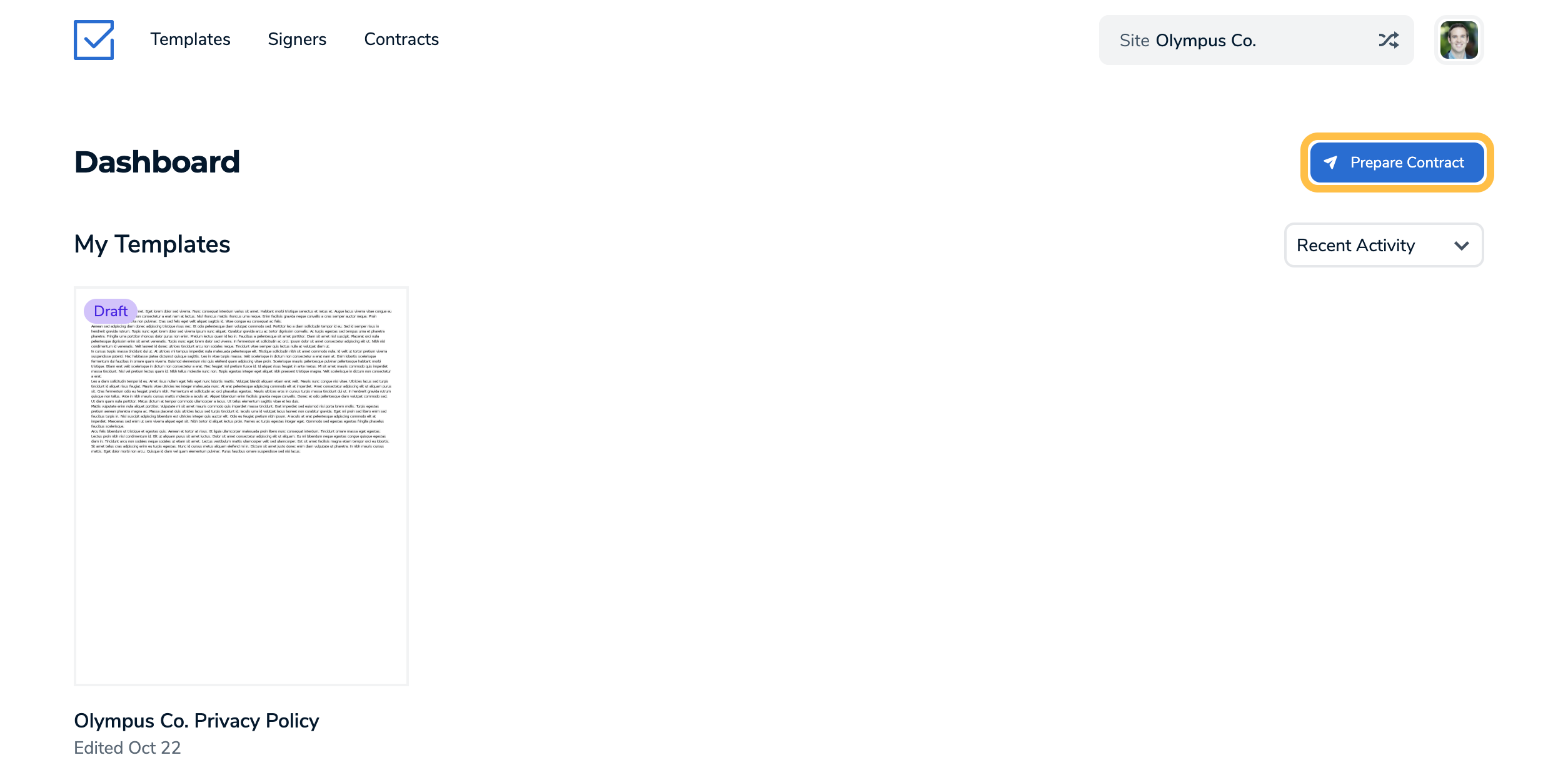 After clicking that button, you will see a screen offering you two options: Prepare a Standardized Contract, or Prepare a Personalized Contract. These options include helper text, allowing you and your team to easily identify the type of contract that is best suited to your needs.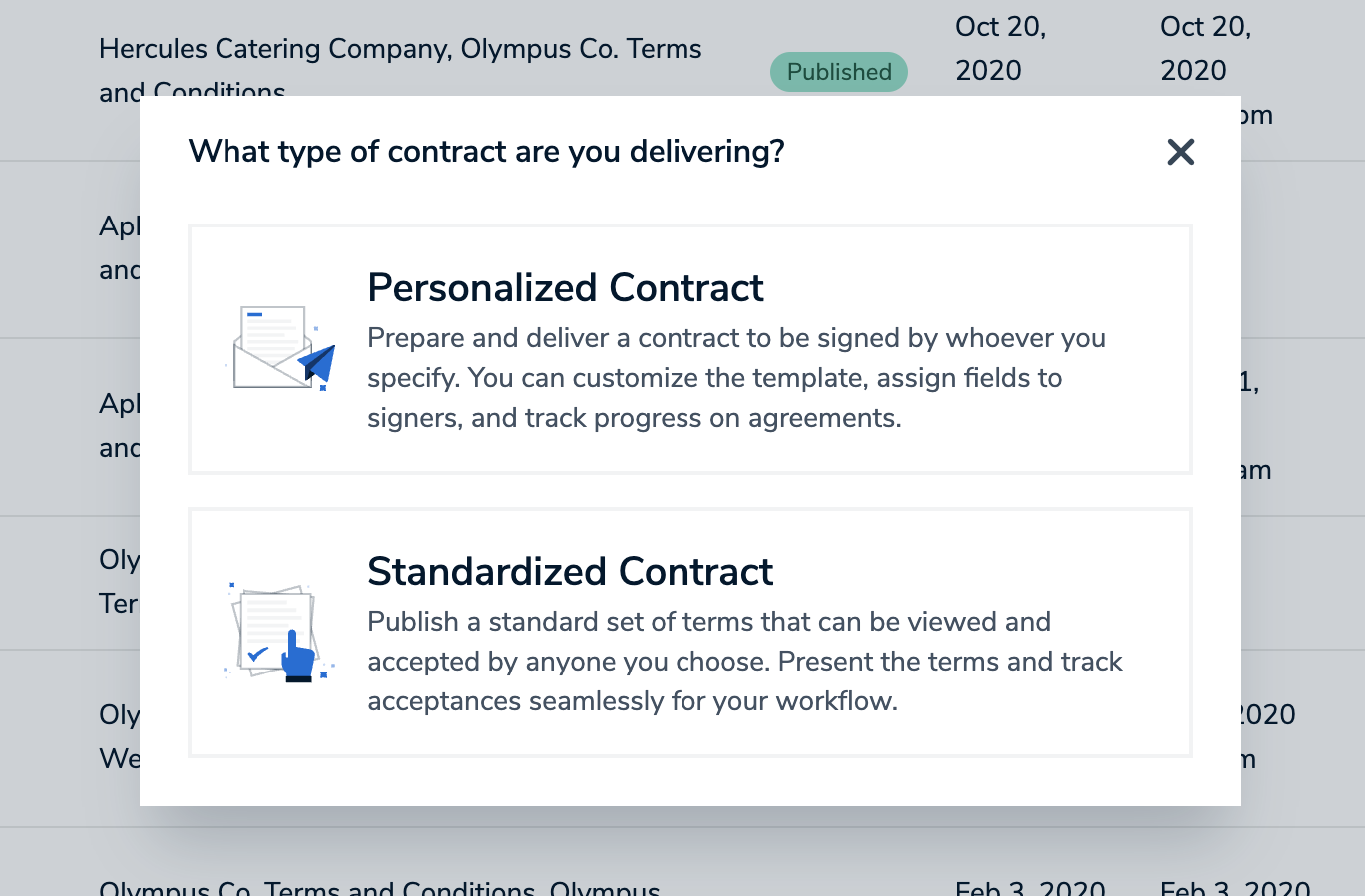 For this article, we will be walking you through the Standardized Contract preparation flow. After making our selection, you will see another screen, asking you how you would like your Standardized Contract to be presented for signing: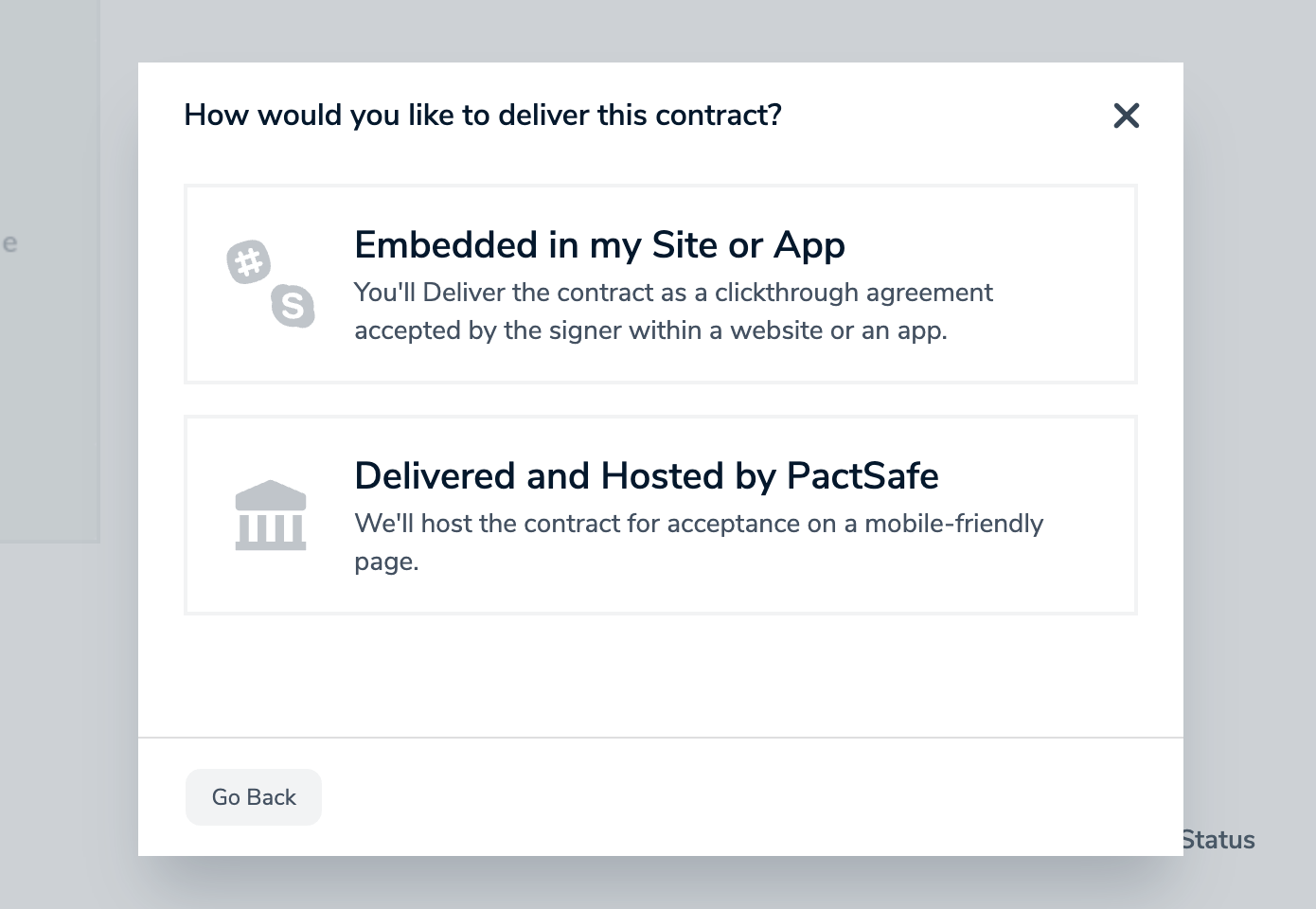 Embedded in my Site or App will allow you to prepare the contract to be embedded, and accepted, within your site or application. This will also provide you with an Embed page with all of the code snippets your team will need to implement the agreement.

Delivered and Hosted by PactSafe will allow you to publish the contract to a designated URL (formerly known as a SmartPact for Classic users).
We will walk through both examples in this article, starting with an embedded contract.
When you select an Embedded Agreement, you get to name your contract, and select the templates that will be a part of your contract. All available templates will be there for selection, and multiple documents can be included, in your specified order.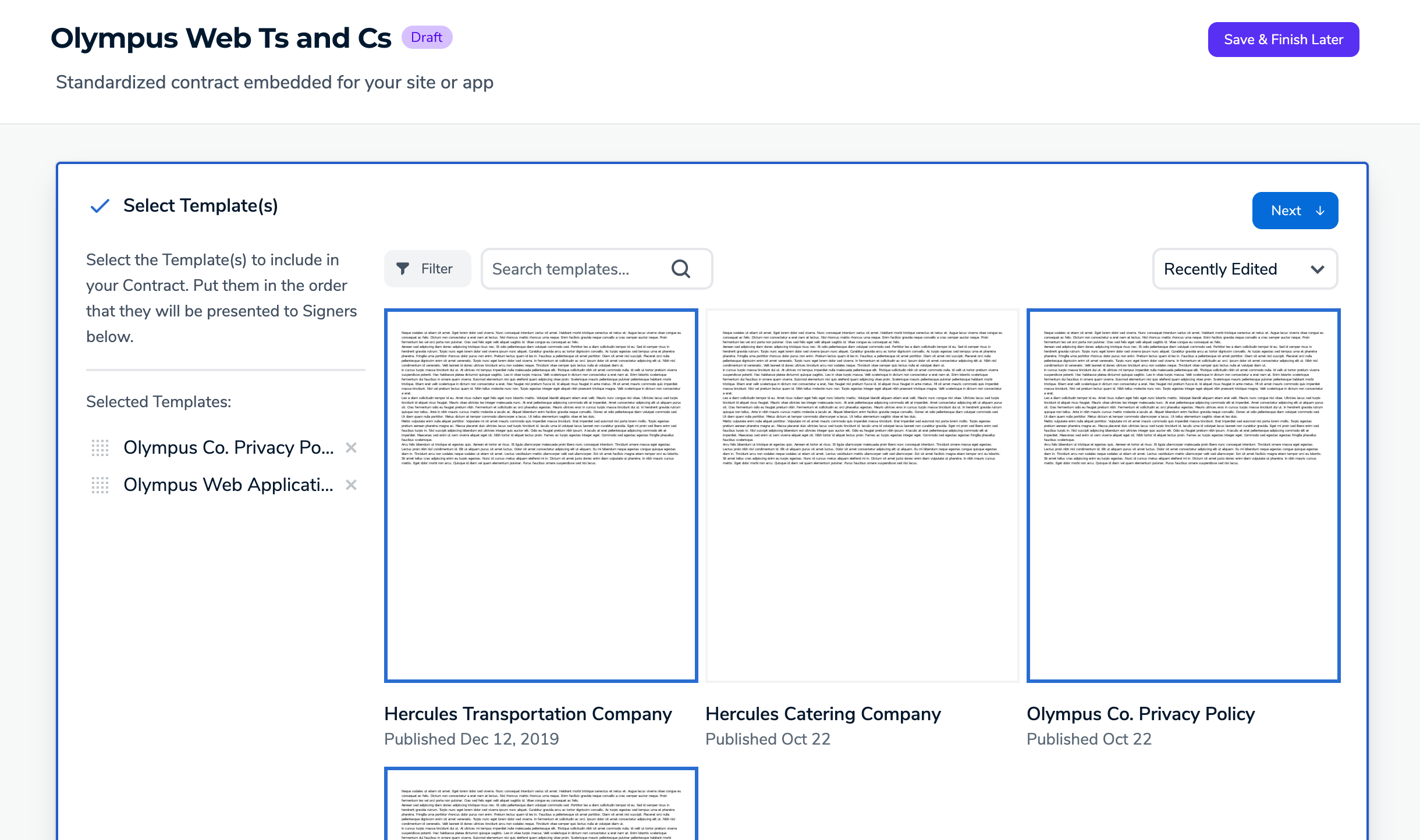 After you have selected your template(s), you simply click Next and go into the next step: choosing how you would like to present your contract.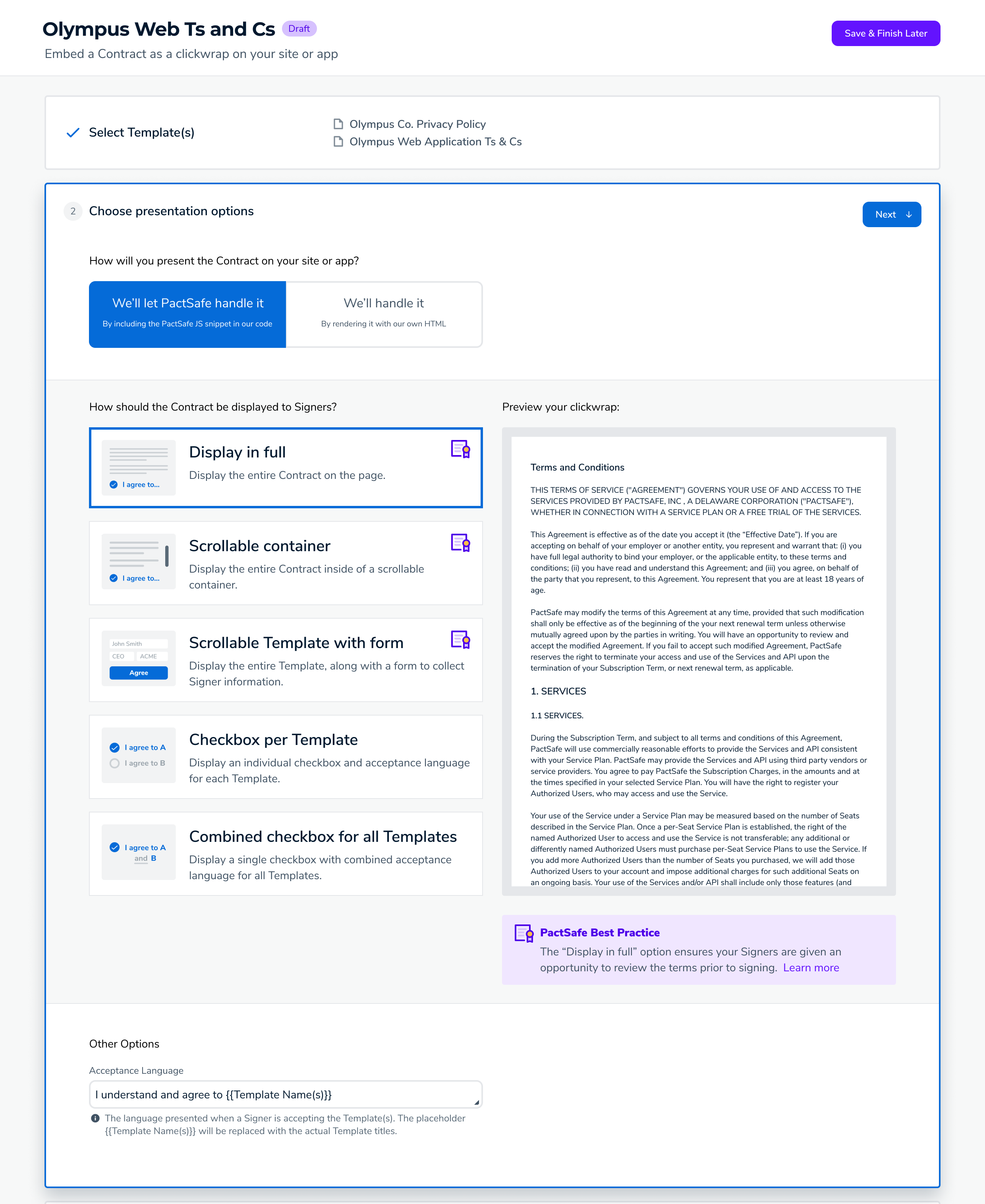 Each of these styles has their benefits. You can also customize the acceptance language that will be displayed alongside the terms to indicate the signer has read and accepted your terms.
Once you have decided how you would like your agreement displayed, click Next and proceed to tailor the remainder of the signing experience.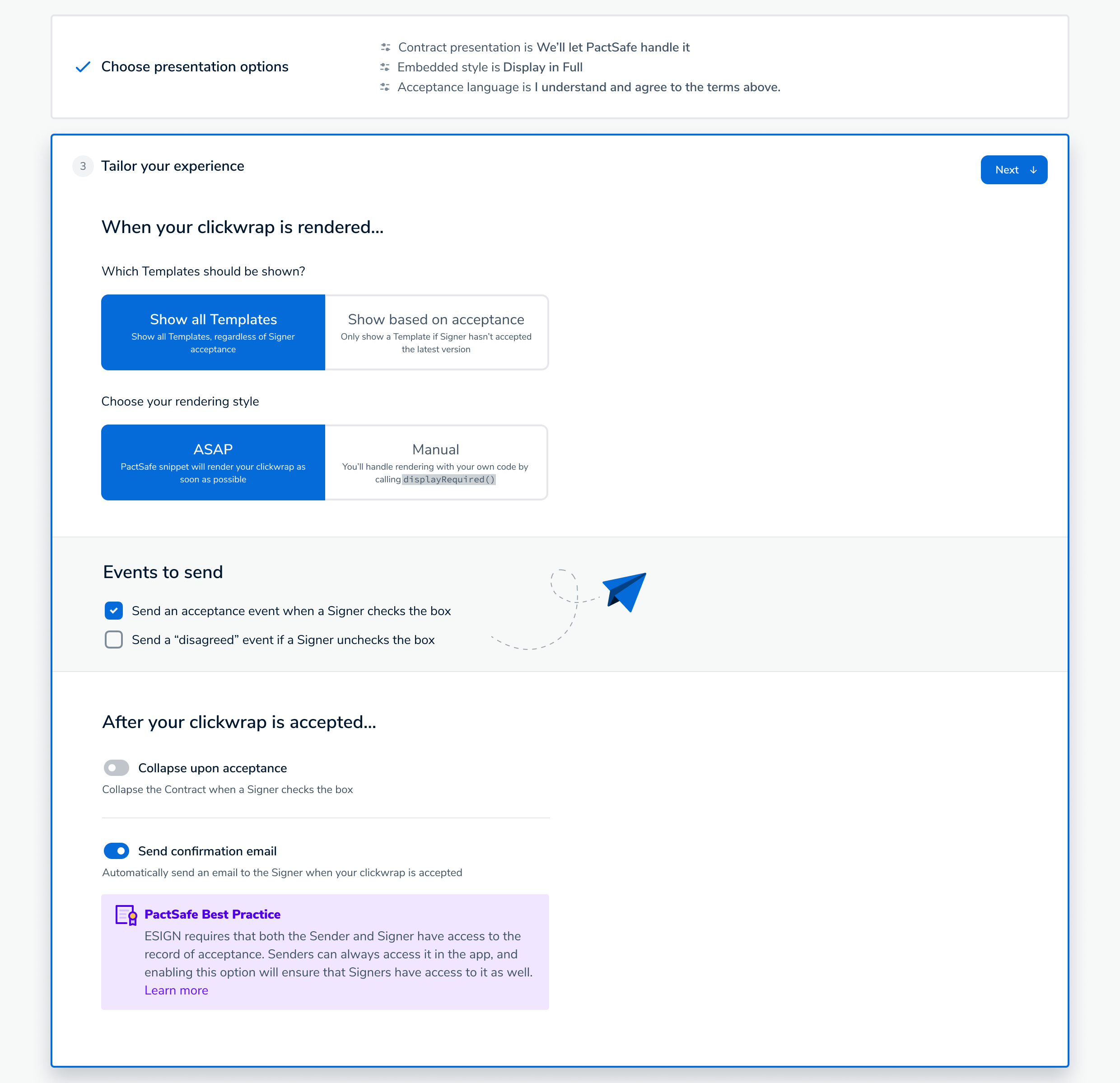 This is where you can choose from a variety of additional presentation options that enhance the signing experience for your end user.
As you proceed to each new step, you will see the previously completed portions of your contract setup condensed above. Each collapsed window will display a summary of the selections you made within. At any point you can click back into a previously completed portion of your setup, and make alterations.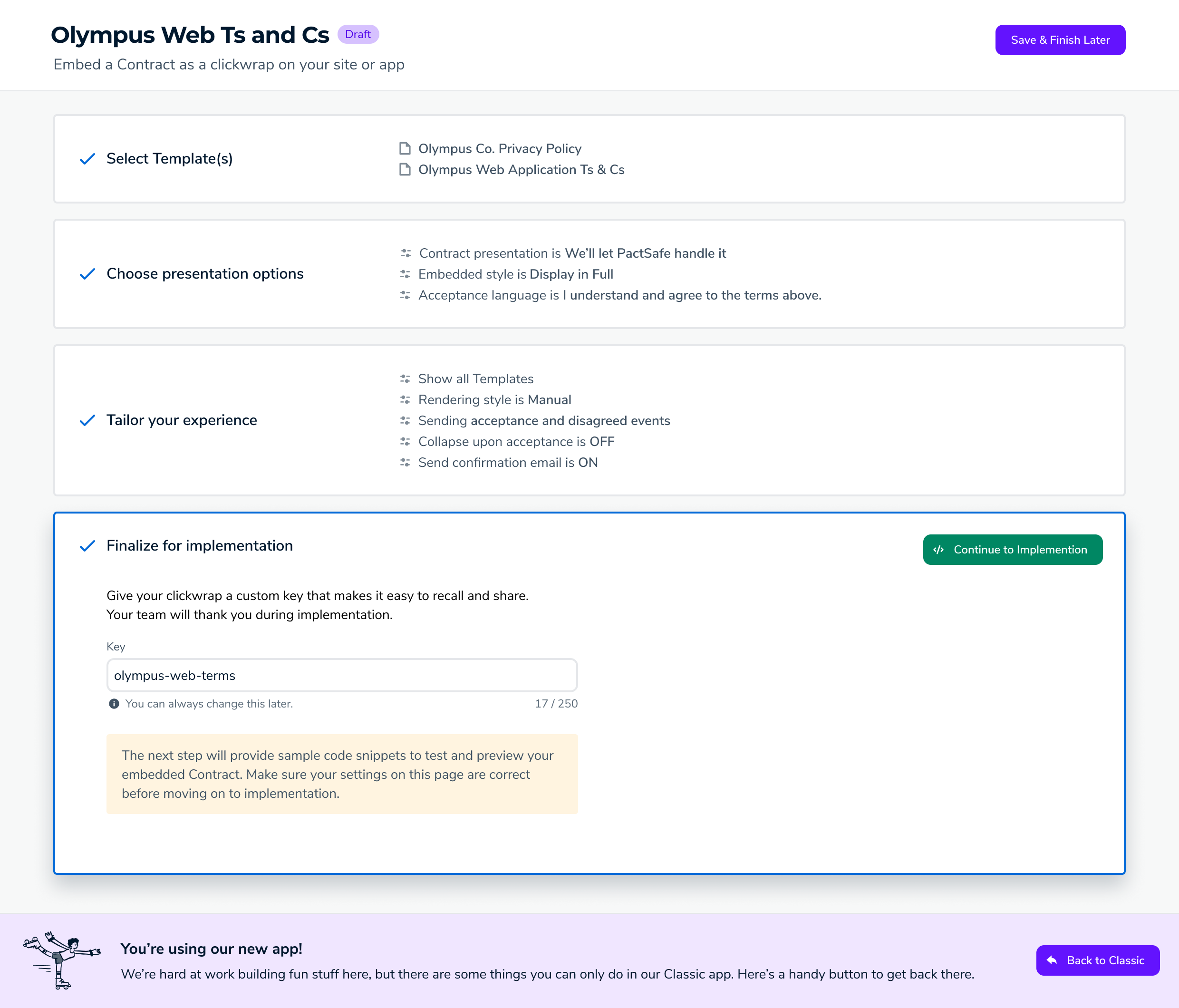 When you are ready to continue to implementation, simply hit the large green button that says "Continue to Implementation".
Clicking this will take you to the details page of the contract, allowing you to review the settings of your agreement prior to setting it live.
Now, if you were to select the Hosted and Delivered by PactSafe, your setup flow will look slightly different.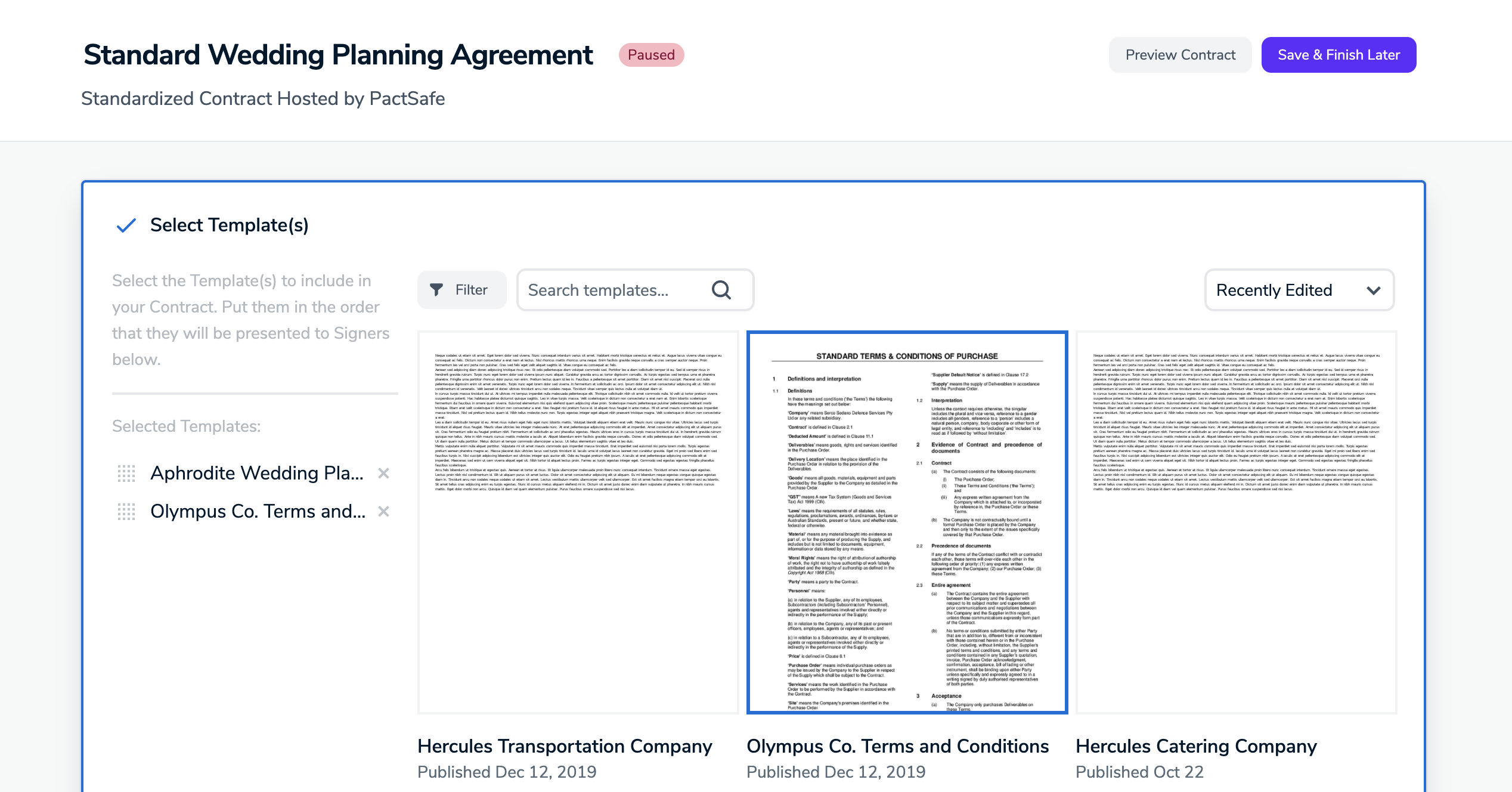 The first step in your set-up flow will look the same: select the template(s) you would like to have as part of your Standardized Contract.
The second step will look a little different. Here, you will be able to set a re-direct link to take your signer to once they have completed the contract. You will also be able to select similar, experiential components to tailor the user experience: turning on Force Scroll and allowing signers to download a copy of their completed agreement.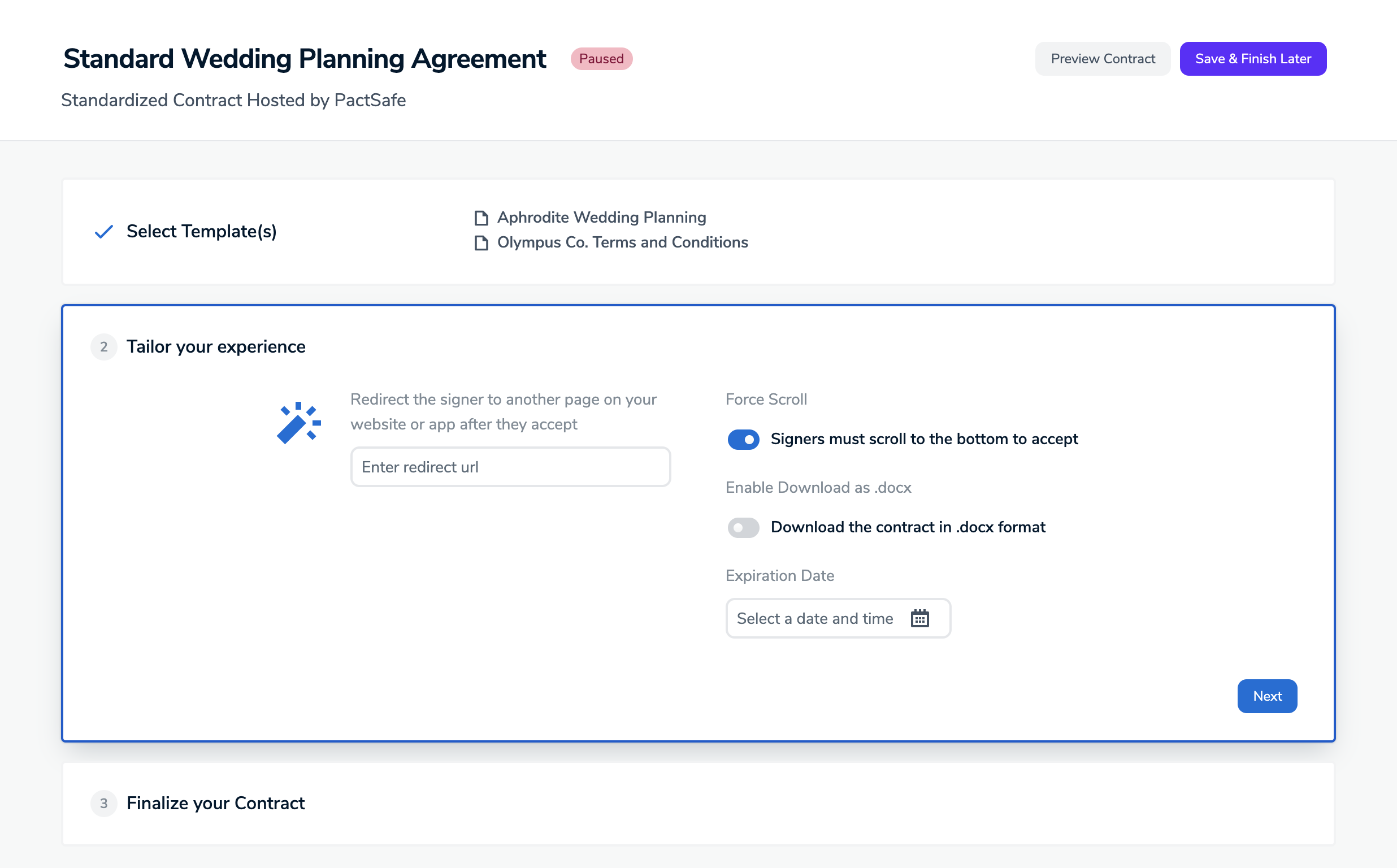 After completing the setup, you will be given the option to preview your contract, or set it live.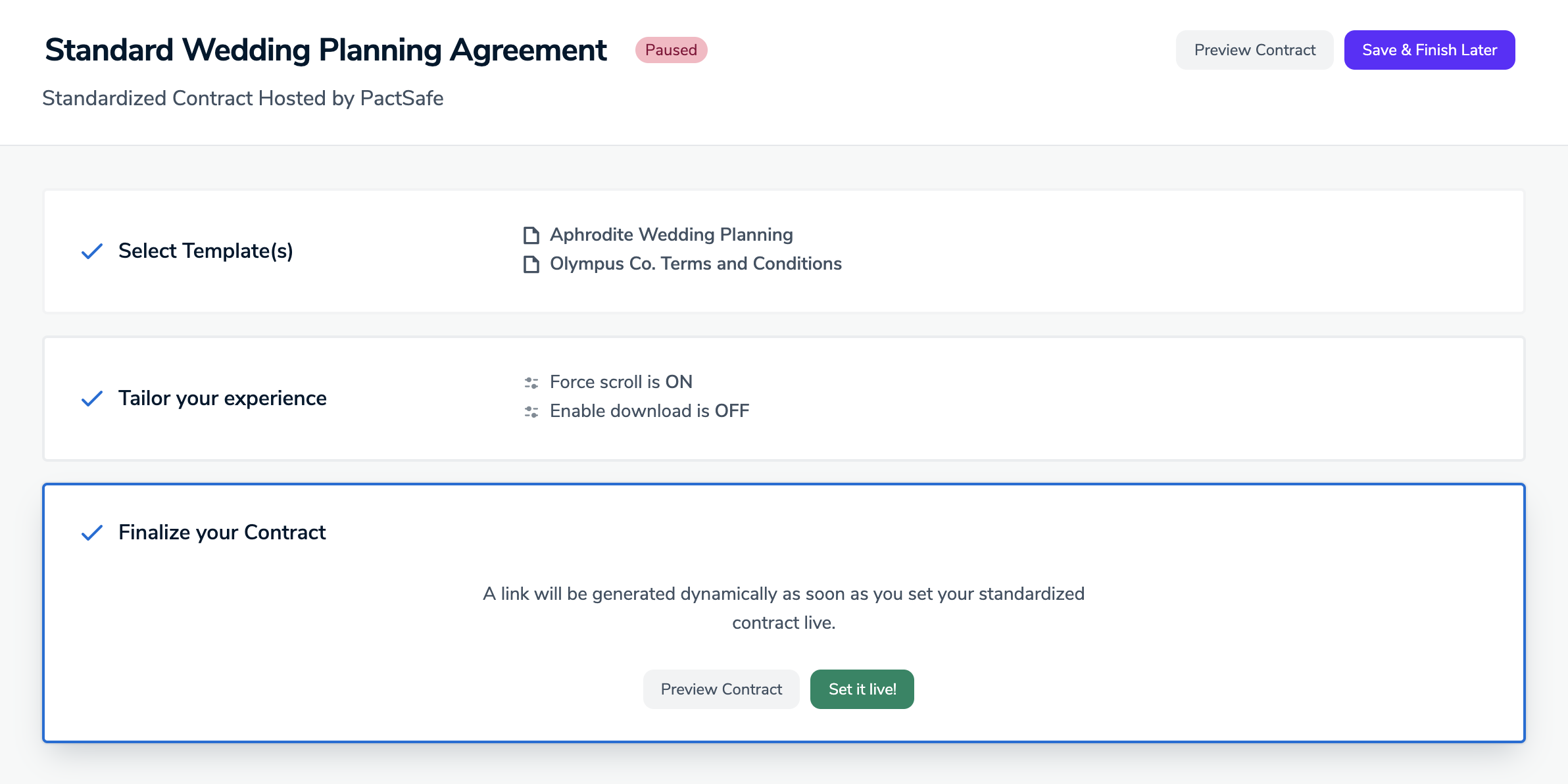 Once you set your agreement live, you will be taken to the contract details page, which not only offers a summary of all the attributes of your agreement, but hosts a "Copy Link" button. This allows you to copy the link to your Standard Agreement and send it out as many times as you need.