Welcome!
Your organization has partnered with Ironclad, a contract intelligence and workflow automation platform, to deliver an experience that is integrated with our existing tools, intuitive to business and legal users alike, and compliant with new company contracting processes.

This article is for Contract Requestors:
As a Contract Requestor, you will be initiating contracts or uploading contracts by submitting information through a questionnaire to power the rest of the process.
This article will provide you with an end-to-end overview of what is involved during each Ironclad workflow stage and features of the Ironclad platform. We have worked closely with your Legal team so you feel confident about the process of creating or uploading contracts for approval and signature.
📥 Downloadable PDF guide:
Note: You may login using SSO, Google, or standard user name/password configurations based on your company's settings.

Total time investment for training: 25 minutes
This article will cover the following topics to get you started in Ironclad:
(click on the title to skip to section)

__________________________________________________________
Logging into Ironclad
ℹ️ Help Center article: How to sign in
First time sign in:
You can sign into Ironclad for the first time one of the ways:
Following the links in your Ironclad email invite.

Accessing Ironclad directly on:

https://ironcladapp.com/signin

and access Ironclad using your SSO credentials, note that your access may be subject to permissions as set by your Ironclad Administrator.

Selecting the Ironclad token via your SSO applications manager. Your Ironclad profile will be pre-populated with your data from your SSO profile.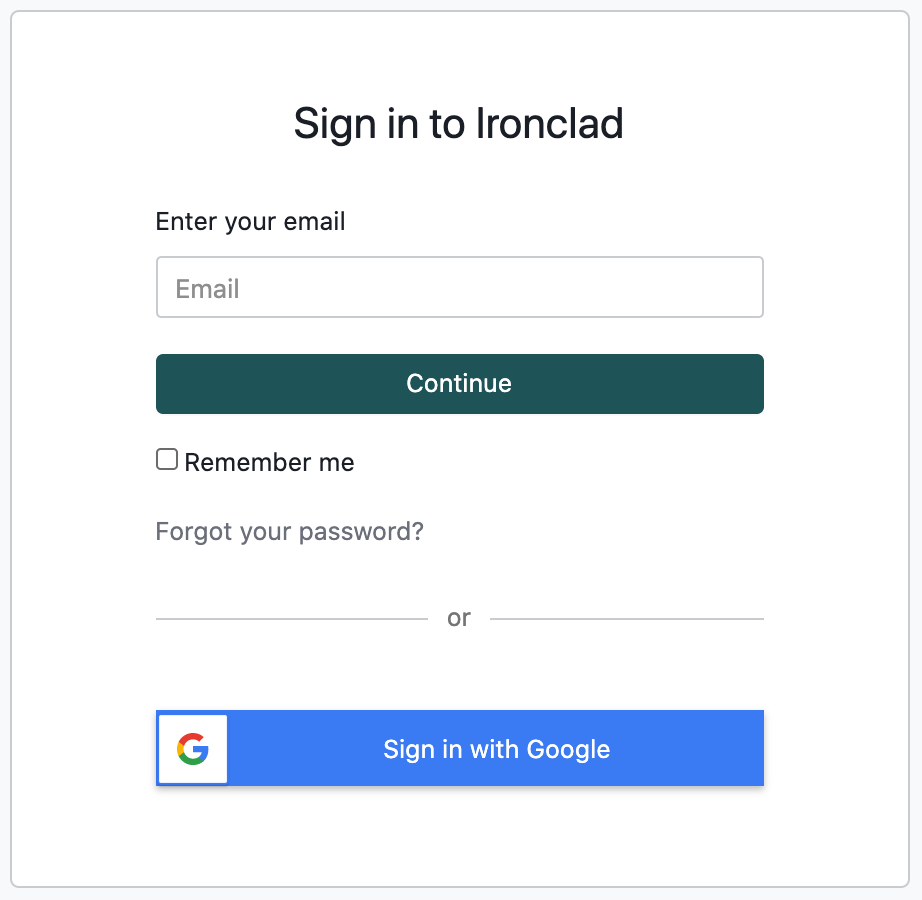 You may access Ironclad after your first login by:
Bookmarking

https://ironcladapp.com/dashboard

to access directly.

Launching from Salesforce if your contract type has been configured (e.g. Sales Agreements, NDA). If configured, you can launch from the Account/Opportunity page by selecting the Launch [Workflow Name] button found at the top.

Example below: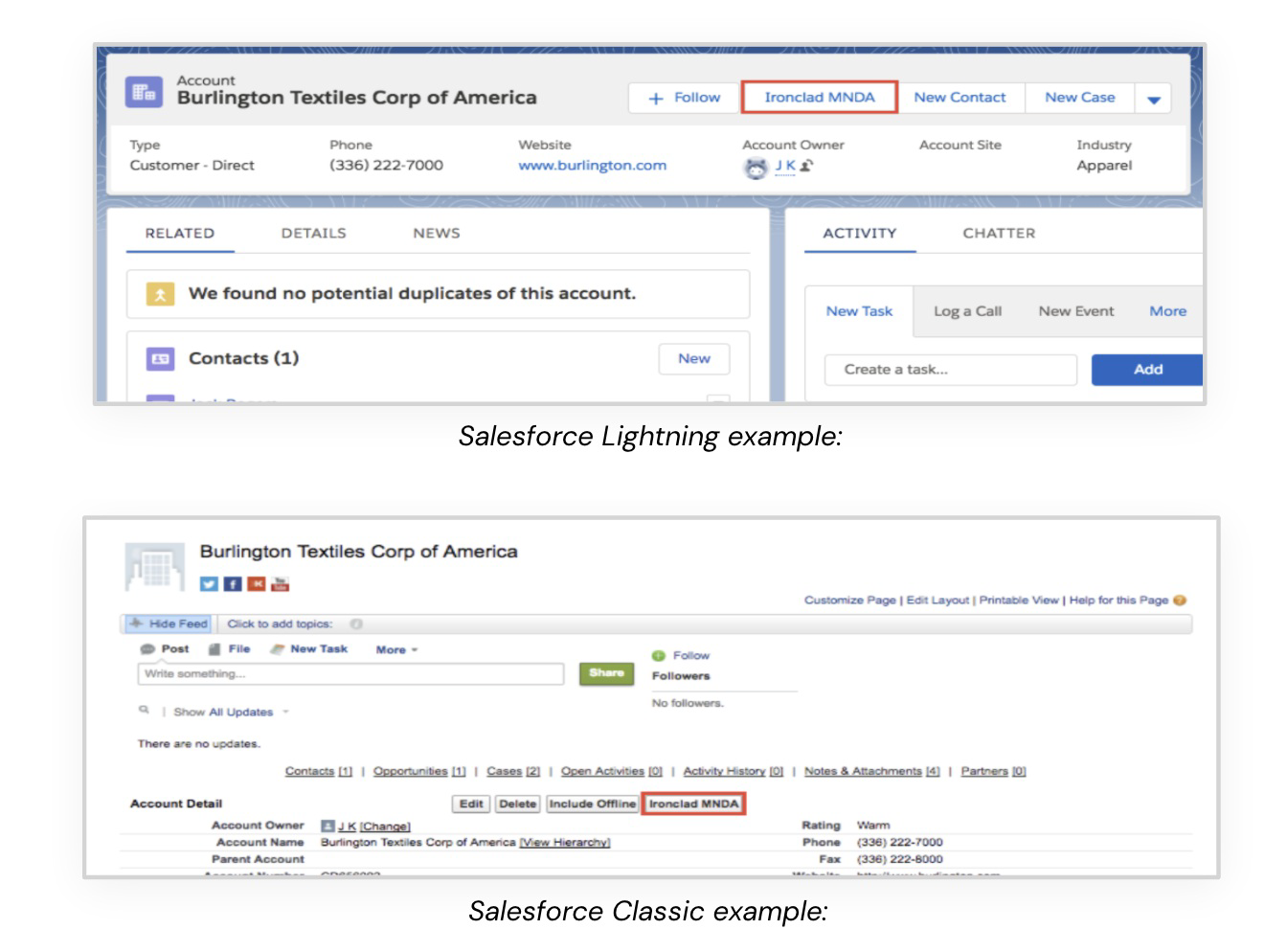 __________________________________________________________
Workflow overview by step
As a contract requestor, Ironclad will be where you initiate your contracts and have them run through a workflow that has been built with your business processes in mind.
A workflow encompasses the following:

__________________________________________________________
Navigating the dashboard and workflow selection
ℹ️ Help Center article: Understanding the dashboard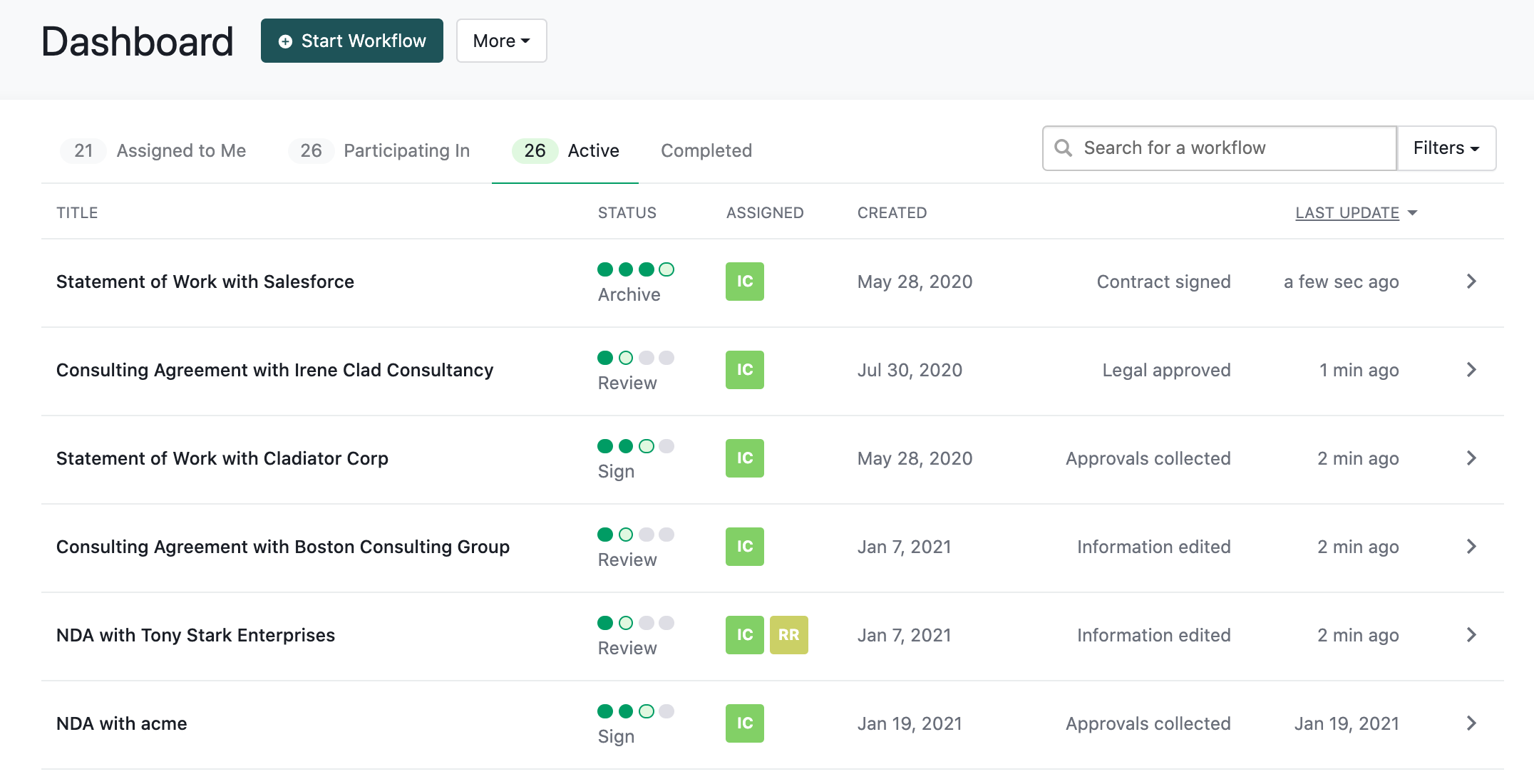 The Assigned to Me tab shows the agreements that are pending action from you. The Participating In tab shows the agreements that you have active participants role in, even if your action is not up next. The Active tab shows the pipeline of agreements that you have visibility into, even if you do not have an active role in them (i.e. your team's agreements - subject to permissions). The Completed tab shows all of the finished agreements, so you can look back at any time.

Searching & Filtering:
ℹ️Help Center article: Understanding dashboard search
If you're looking for a specific agreement, you can search using the Search bar or the Filters dropdown on the top right-hand corner to narrow the agreements down (e.g. You can view all agreements stuck in the Sign step, specific contract types, etc.).

Selecting the Workflow: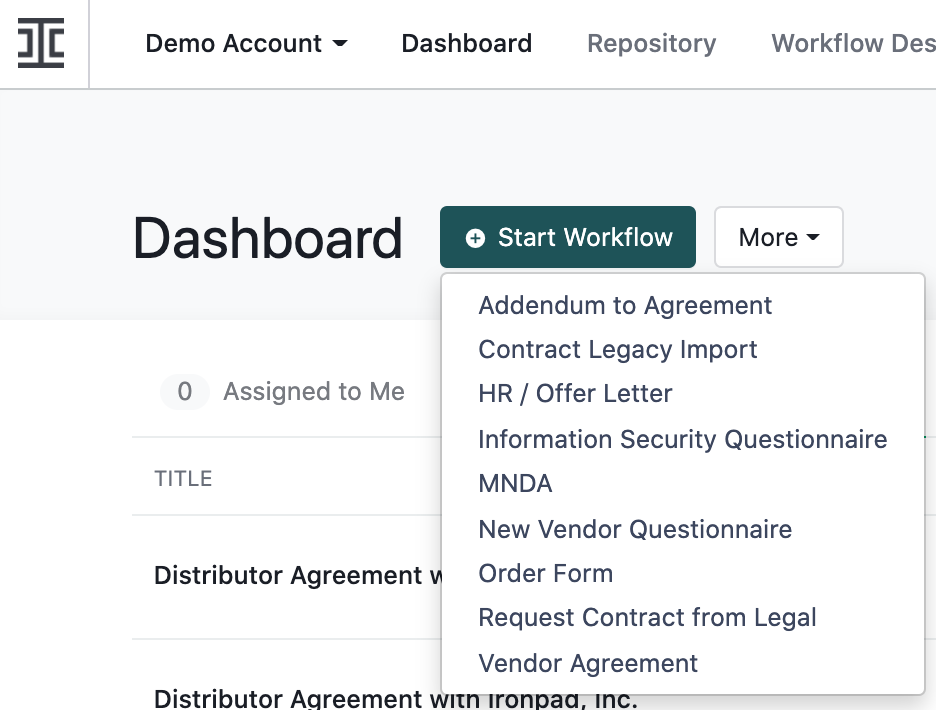 In order to start workflow (request a contract) you can click on the Start Workflow button and choose the agreement type you would like to initiate. Your list will only include the contract types you have access to, if you believe you should have access to others, please ask your Ironclad Administrator.

__________________________________________________________
Launching a workflow
ℹ️ Help Center article: How to start a new workflow
Once you have selected the workflow you wish to launch, you will arrive at a questionnaire that collects all information required to generate the agreement and/or upload an external paper, route it for internal review, and collect signatures.
Every question marked with an * requires an answer before it can be sent for Review or Signature. Depending on your answers, you may notice additional questions pop up. When you've completed all the questions, click Submit.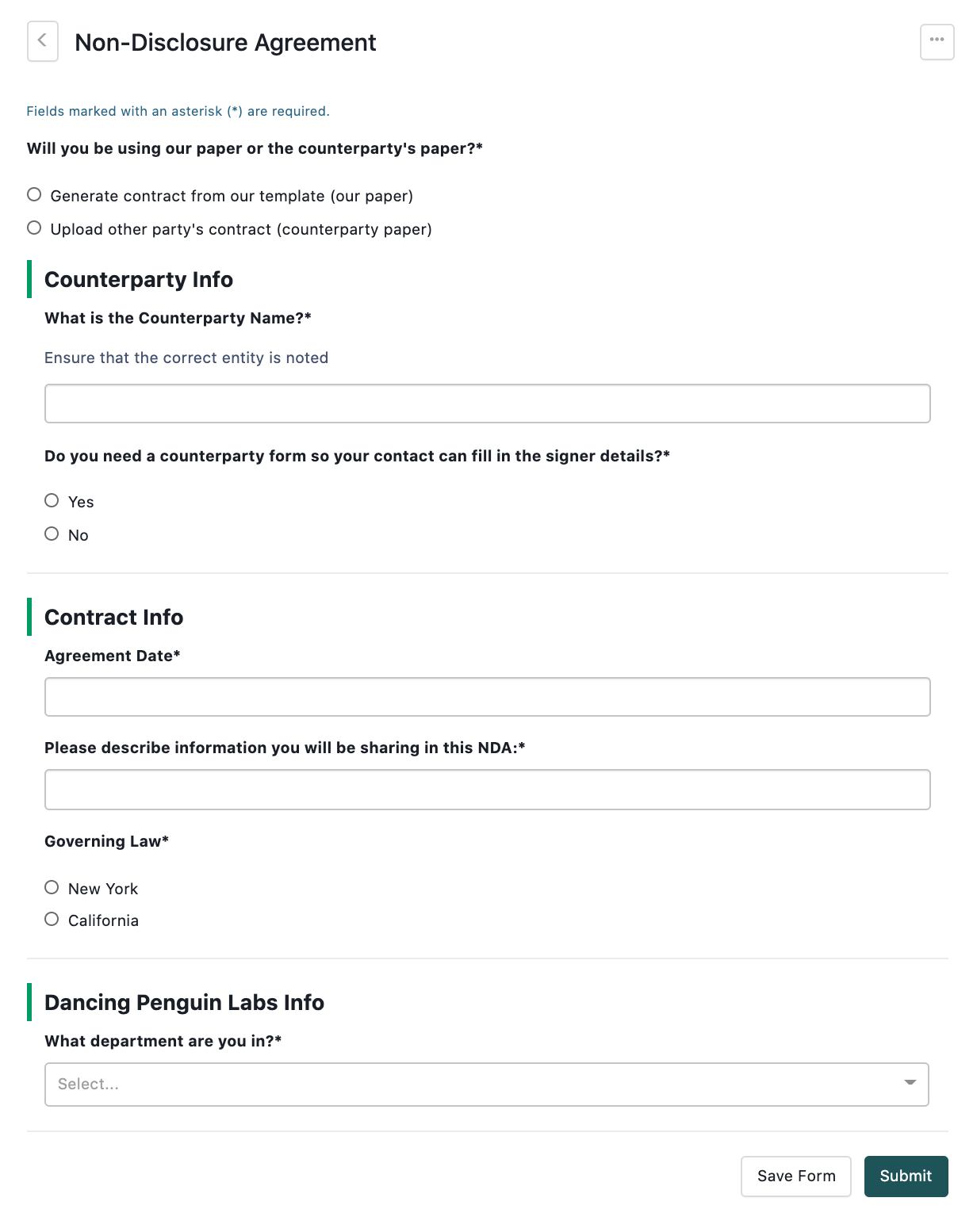 Not sure if you're ready to submit yet?
You can do one of two things:
You can save your progress by selecting Save Form at the bottom of the launch form and retrieving it when you're ready via the Start Workflow dropdown in the Dashboard.

You can edit your answers later in the next step: Review.

__________________________________________________________
Approval step in Ironclad
Depending on the contract type and your answers to the questions in the previous step, Ironclad will automatically pull in all internal Approvers to Approve each version of Ironclad before it can be sent out for signature. This approval process can be sequential or in parallel, so pay close attention to layering and sequencing in the Approval section.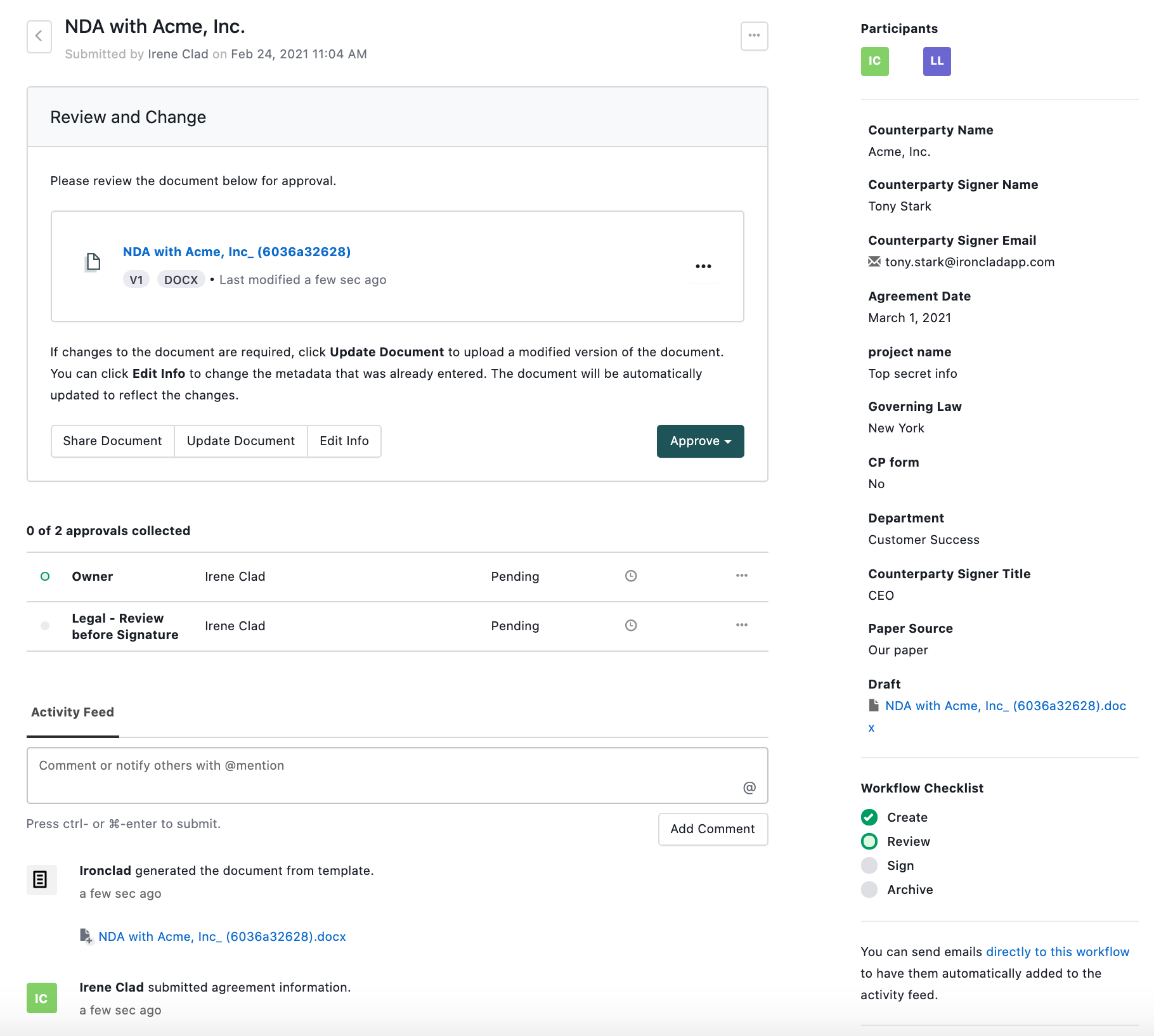 If you're required to approve as the "Owner" of the workflow:
If you're required to approve, you will see a green Approve button and an Approval layer titled "Owner". This may be put in place to ensure you have checked before passing to other internal reviewers or as a final approval before the Sign step. You will also be notified by email.

To review the draft document:
ℹ️ Help Center article: How to compare document versions
Click on the document title to preview the draft document.

Collaborate with the Activity Feed:
ℹ️ Help Center article: Understanding workflow activity notifications
If you have any internal dialogue regarding your draft document, use the Activity Feed section to collaborate. You may @mention a colleague (be sure to Add Comment) and they will be notified via email that they can reply directly to and click into to arrive at the workflow review page.
💡Tip: The Activity Feed is a great way to stay on top of your Workflow and reduce turnaround time for other stakeholders. If you wish to prompt a participant of the workflow, feel free to send them a reminder.

How to Share Document:
ℹ️ Help Center article: How to share a document
If you wish to share a version of your draft document via email (in PDF or Word format), you can Share Document in Ironclad. You can choose to share either the latest and/or redlined versions.
💡 Tip: When you Share Document, you can also track if your recipient has opened your email in the Activity Feed.

To make changes to your draft document:
There are three ways to update your draft document, each of which will require you to leave a note to populate the Activity Feed:

| | | |
| --- | --- | --- |
| Editing option: | Situation: | Use when: |
| | If you wish to update your original answers given in the Launch step and haven't shared the document for redlines, select Edit Info and it will open up a list of all the Launch Form questions so you can edit accordingly. Once you've updated using Edit Info, the document may update and generate a new version, and you may need to seek reapproval from those already approved. | The draft document has not been shared yet. |
| Update Document | If you wish to update content that was not entered in the Launch step or need to upload an updated Word or PDF document to replace the current version, you can Update Document to upload the latest version. Please note that after uploading a new version, Edit Info will no longer update sections in the draft document populated by Launch form answers. | The draft document has been shared and edited outside of Ironclad. |
| Ironclad Editor | If you wish to delete or add to the draft document text within Ironclad, you can do so via Ironclad Editor. All changes are tracked and may require internal approval. | Making minor changes to the contract. |


__________________________________________________________
Sign stage process
After approvals, Ironclad will prepare the approved document for signatures. If you are responsible for the signature coordination, please see below for guidance on the next steps.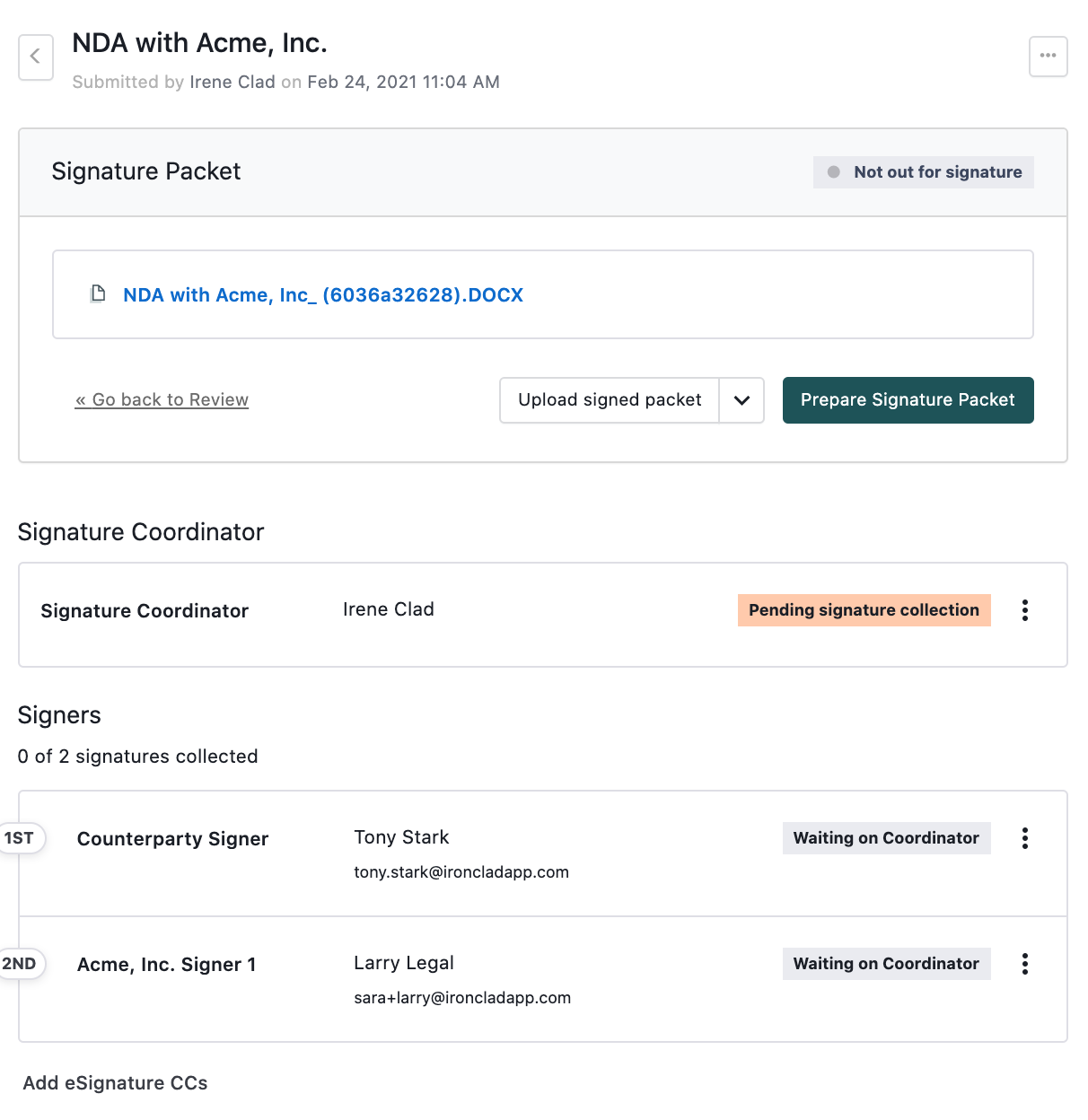 If you are the designated Signature Coordinator:
ℹ️ Help Center article: How to send a document for signature
You are responsible for managing the signature collection for this contract. This may include:
Choosing when to Send Signature Packet to initiate the eSignature process,
Confirming any partial or fully signed packets that have been uploaded via the Upload Signature Packet button

(accessible to all internal participants of the workflow)

Managing signers and signing order

If contracting on external paper, placing eSignature tags on the document before sending, and

Adding eSignature CCs to those who need to be notified but not actively participating.
If the contract was signed outside of your eSignature (partial or full):
ℹ️ Help Center article: How to upload a signed document
You can use the Upload Signature Packet button
If you need to make edits to the template or there are further negotiations:
You can revert back to the Review step by hitting Go back to Review. This will also reset all Approvals in the Review step. Be aware that reverting back to Review after sending the Signature packet, the eSignature packet will be voided and all parties will receive an email if the envelope is voided.


__________________________________________________________
Completed contract and the Repository
After the contract has been signed by all parties, the Archive step acts as a final approval to ensure the contract data information is complete before storage. This is typically performed by someone in an operational role.
Once approved in the Archive step, the contract will be stored in multiple places - your organization's Cloud Storage, Salesforce, and Ironclad Repository.

Ironclad Repository:
ℹ️ Help Center section: Ironclad Repository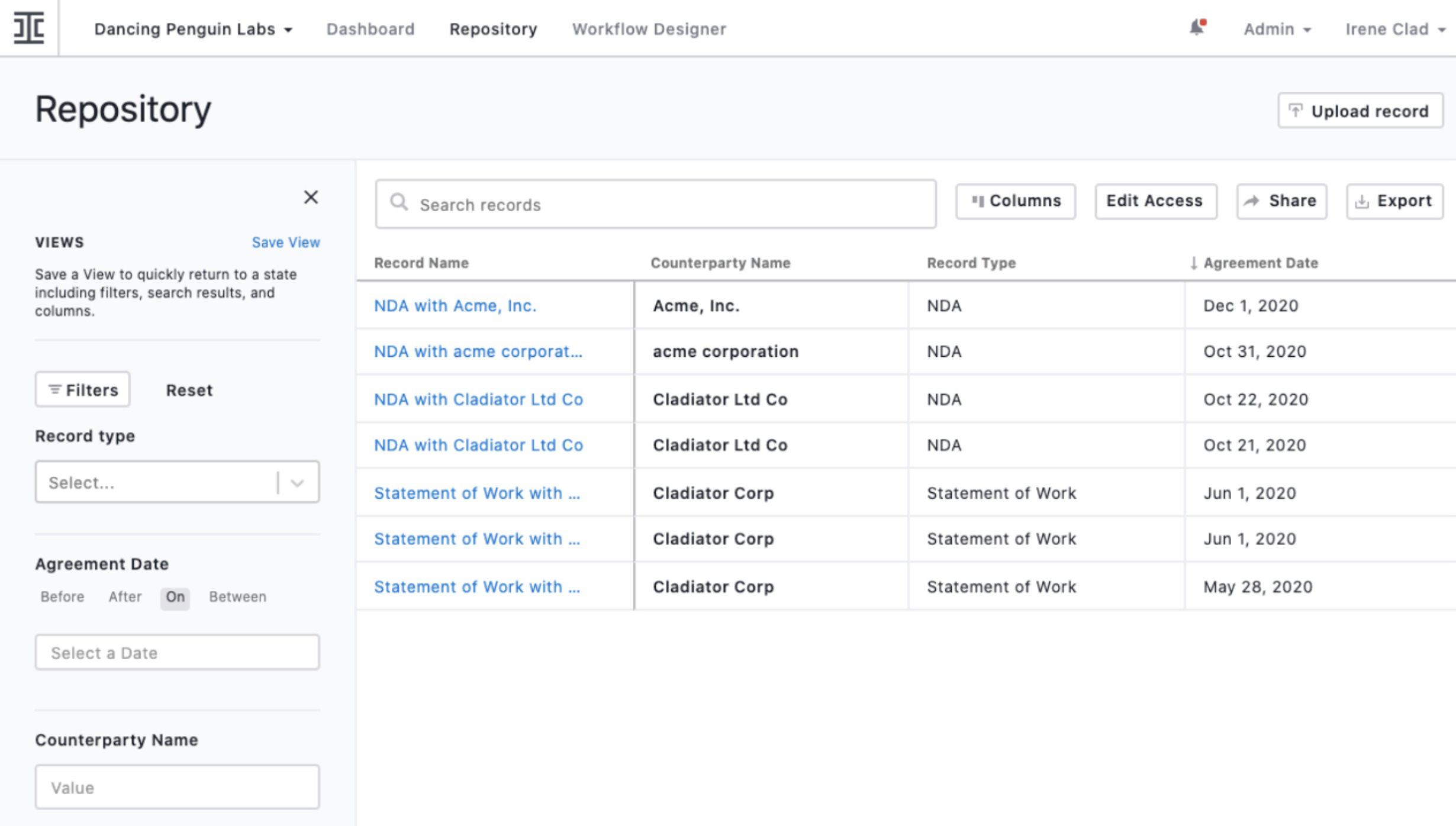 A source of truth for all your contracts and the history of the workflow, this is where you may find information based on your Search query. If you need to refer to a particular set of search parameters frequently, you may Save View. Note that your Repository access is subject to permissions as set by your Ironclad Administrator.

Ironclad Support & Resources:
For technical issues, please contact

support@ironcladapp.com

.

For general training resources, please browse our Ironclad Help Center content ats upport.ironcladapp.com.