This article will provide an overview of Ironclad's Custom AI features. This article also includes frequently asked questions surrounding the features.
Ironclad's Custom AI features enable you to train and fine tune Ironclad's AI. You can add examples and remove data at any time as your business and contract data evolves. Custom clauses allow Ironclad AI to automatically capture and store critical clause usage data when documents are analyzed via Smart Import or AI Playbooks so you can have structured data to use for legal analysis or advanced contract insights.
Using Custom AI, you can adapt the quality and accuracy of AI results as well as improve the ability to understand any unique data, domain knowledge, and context. This is called fine-tuning. Fine-tuning lets you enhance the Ironclad AI models to your unique use cases by adding contract data that was not observed during the original AI training process. This results in better performance and results which leads to faster-decision making.
The Custom AI feature set consists of the following functionality:
Custom Clauses: You can create or train a new clause to use in AI-powered features by simply creating a clause and adding a name, description, and providing a few examples of clause text to start training a new clause. You can start with 1-2 examples to get started and add/delete examples at any point in time.
Train Default Clauses: Every contract, business, and industry has varying preferences or unique contract terms or language. If Ironclad AI is not able to detect and label a specific paragraph as the desired clause. We suggest training Ironclad AI by: 1) highlighting and tagging the document text in documents (using Editor or Repository records) or 2) manually adding a clause example that specific clause in the 'Custom AI' experience.
Control and Manage AI Properties: Ironclad has 195 AI contract data properties. You have full control over the AI properties that are displayed and shown in Ironclad to improve the relevancy and focus users on the priorities of the business. These features are important to reduce UI clutter and help Ironclad understand which terms are important for your business.
Limited User Permissions: You can control and restrict users that can influence or impact AI accuracy or quality. Custom AI features are accessible in Company Settings > AI Clauses and are only available to Administrators.
NOTE
As with all advanced AI features, Ironclad must have the necessary rights to process account data to deliver the features as designed. If you cannot self-enable this feature on Company Settings > Settings, you will be prompted to sign an amended ESA agreement or if you have questions, please reach out to your Ironclad Representative.
---
Should I Use Custom AI Features?
You should use Custom AI features any time Ironclad AI is not accurately detecting a clause when using any AI-powered feature like Smart Import, AI Playbooks, or AI Assist.
Ironclad AI is iterative and will improve as you use Ironclad AI-features and Custom AI features to accelerate the learning speed of our models. The more that Ironclad AI is used by customers, the more accurate and relevant it will become.
✅ Custom AI features might be a great fit if…
You want to improve and adapt Ironclad AI's results and accuracy.
You have very unique contract language or industry needs.
You want to use any AI-powered feature in Ironclad.
You want to report or have insights on clause-level contract data.
🚫 Wait to use Custom AI features if…
You do not expect to use any AI-powered feature in Ironclad.
You do not have the bandwidth to invest the time in improving AI's accuracy or results.
You do not want to use Ironclad AI's default models.
---
How to Use Custom AI Features
Required Permissions: Ironclad Administrator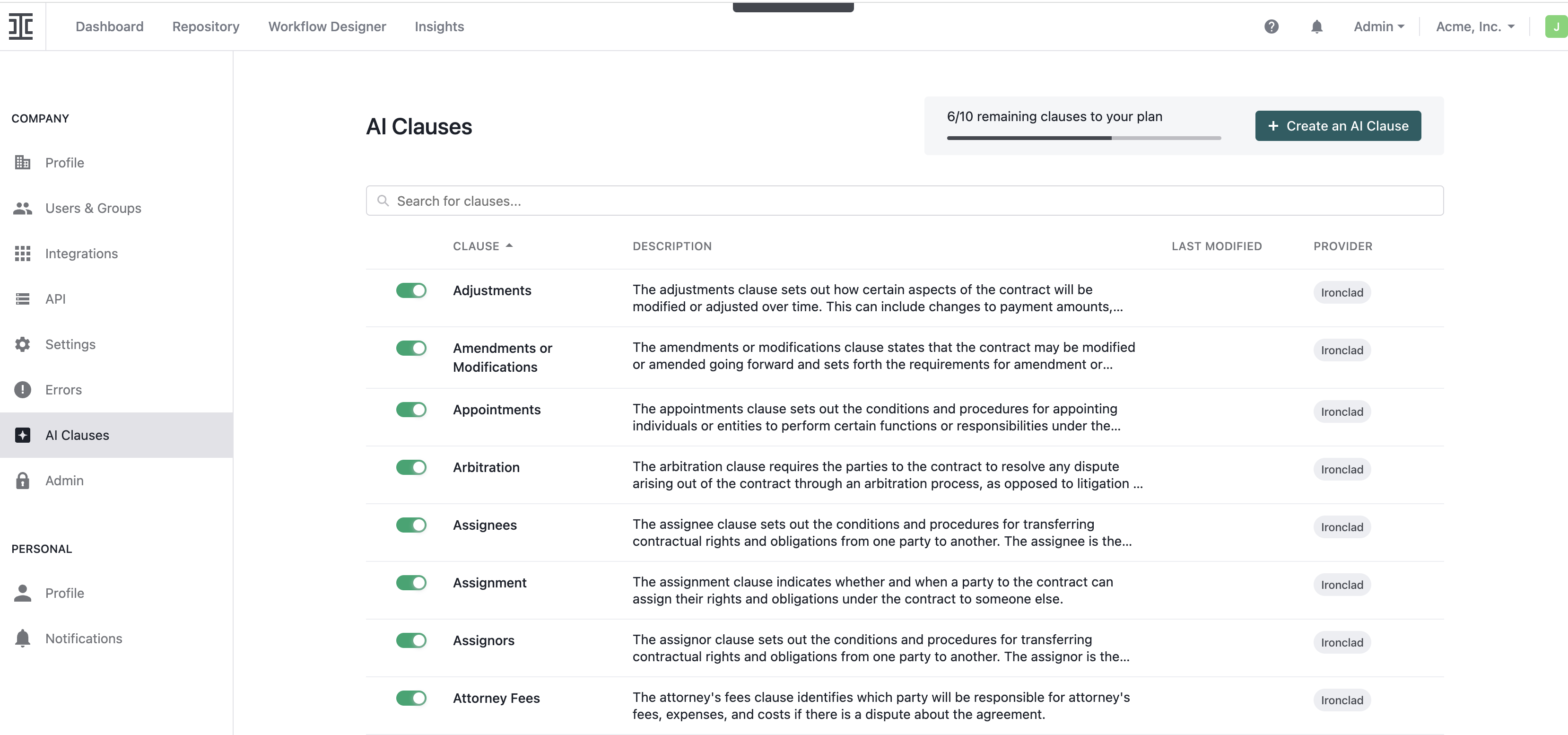 Click on your profile icon located in the top right corner of Ironclad. Navigate to Company Settings > AI Clauses.
Click + Add New to create a new Ironclad AI clause.
Add a name and a description of the clause type.
Add a detailed example to train the AI to analyze clause results.
Add detailed examples to train the AI to analyze clause results.
---
Contract AI FAQs
General
Is there a limit to the number of examples we can use to train a clause?
Ironclad limits each clause to be trained with a max of 20 clause examples. If you need more than this, there are a few ways to improve the AI's results:
Clause data example diversity. The more diverse a clause example is that you use to train or fine-tune AI, the better the results will be. If you provide very similar examples where only a couple of words are different, the AI will not materially change in its quality or accuracy. Fewer, varied and diverse examples are better.
Broad use cases or use sub-clauses. If a custom clause appears to be too long, break it down into smaller paragraphs for accurate detection.
If none of the above resolves the issue, please contact Ironclad Support.
Yes, we haven't restricted this capability. For example, you may want to create a custom clause like "Governing Law - EU" vs. "Governing Law - APAC" and Ironclad does not prevent either the default or custom clauses from being used.
As a best practice, should I create a single custom clause for all types of documents or create a unique custom clause per document type?
This is a very customer-specific question and our guidance is to first think about how you want to manage & report on this data. We recommend that you start with creating a holistic clause that includes all examples of different document types to simplify the reporting & insights to start. If you find you need more granularity or additional precision by document type, you can always break this clauses by document type later and re-run the AI analysis on your existing records (coming soon).
Can I create a custom model using only our contract data. Is this possible today?
No, but we may consider this in the future. It puts a tremendous burden on the customer so we prefer to have a hybrid solution that allows Ironclad's global models to power the core and foundational models while providing customers more control and influence with fine tuning and training models based on their needs. We've found that a successful partnership has delivered the best accuracy and performance to date.
Can custom clauses be easily transferred or shared across Ironclad accounts & stacks (e.g. DEMO vs PROD)?
No, not at this time.We understand the need, but unfortunately do not have an immediate solution available yet.
Data Privacy and Security
Will Ironclad AI use our custom clauses and contract data to train Ironclad AI's out-of-the-box or global models?
Our goal is to improve our AI products to provide faster decision-making and help customers use AI to more efficiently accomplish contracting tasks. Ironclad's use of customer data is a permissive model. We are transparent in the use of your data, and we'll work with you to understand your data privacy needs and provide enterprise-level data privacy and security.
Is there a chance of our company's competitor seeing private or sensitive contract data?
No, Ironclad takes data privacy, security and confidentially very seriously and evaluates all customer and data privacy risks with our cross-team AI Governance Council (represented by Legal, Product, Security, etc.). Our Custom AI models analyzes contract data to make clause suggestions for clause names or types only. We evaluate a paragraph of text to predict if the text is best described as a clause like 'Governing Law' or 'Adjustments'. There is no in-app feature that provides detailed or descriptive contract data in the results, so no clause examples provided when using Custom AI features could appear to another Ironclad user or customer.
We have a BAA (Business Associates Agreement) in place with Ironclad. Should we use Custom AI?
Yes, customers that have a BAA agreement in place with Ironclad are automatically opted out of having their data used for AI training purposes to prevent and protect PII and PHI data. Any contract data provided by these customers will be retained and used for their Ironclad instance only.