This article will provide a brief overview of the OneTrust Integration.
You can integrate your OneTrust application directly with Ironclad using a simple setup - no code required. This integration allows you to streamline your processes across the two systems and reduce duplicate checks and approvals. The OneTrust and Ironclad Integration:
Launches a workflow in Ironclad from a list of vendors pulled in from OneTrust
Maps specific metadata on that vendor from OneTrust that you want to include on specific workflows
Launches a new Engagement on existing vendors in OneTrust based on your defined processes and prevents approvals of the contract prior to the Engagement being approved in OneTrust
Creates a new vendor in OneTrust and prevents approvals of the contract prior to the vendor being approved in OneTrust
NOTE
Currently, we do not support launching Assessments in OneTrust via Ironclad.
---
Get Started with the OneTrust Integration
If you are a prospective customer, reach out to your Account Executive to learn more.
If you are a current customer, reach out to your Customer Success Manager or
support@ironcladhq.com
for more information.
---
Create a New OneTrust Vendor in Ironclad
If the vendor you wish to submit a new contract for does not yet exist in OneTrust, you can simply complete the launch form questions (as demonstrated in the following sections) and the information included will be used to create the new vendor in OneTrust. At this point, the vendor will be Pending approval in Ironclad and the contract cannot be approved until the necessary approvals have been reached in OneTrust.

---
Launch a Contract with a OneTrust Vendor
Instead of retyping all of the vendor details from OneTrust into Ironclad, you can pull that metadata directly into the launch form. After completing the setup, you will see the Pull Vendor from OneTrust button on your launch form that will provide a modal for searching for vendors in your OneTrust account and any mapped data will also be populated.

---
Launch an Engagement with a OneTrust Vendor
To launch a new Engagement in OneTrust via Ironclad, you must configure the necessary questions in Workflow Designer to trigger this action.
In the example below, the Workflow Owner indicates that the contract is a new product or service and will be sharing Personal Identifiable Information (PII), which then requires a new Engagement based on the predefined rules set.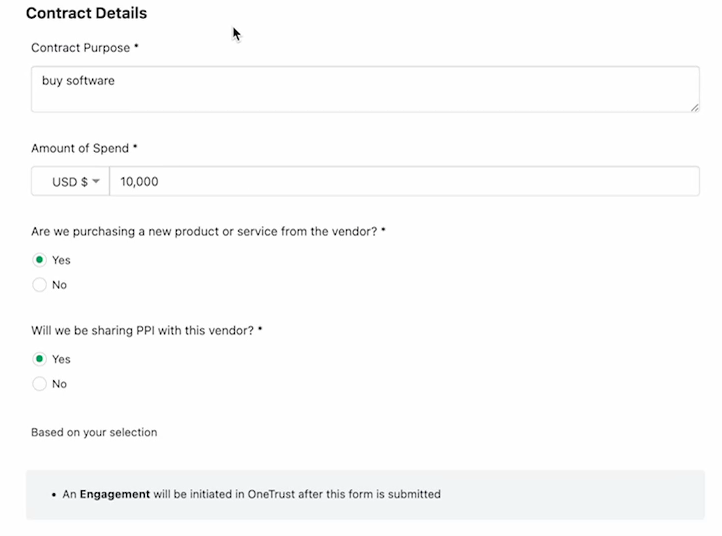 The approval chain now shows the vendor as approved in OneTrust, but pending approval of the engagement before the workflow can be approved.