*NO LONGER BEING SOLD*


Some people want to create all their Contracts in PactSafe first and then find the right Contract to send from the Contract repository when sending a Signature Request. Other people want to grab Contracts stored on their own computer just as they're sending out the signature request. Either way is totally fine. This document is about the second way.
Keep in mind that the Contracts you upload as you send your signature request aren't published, so you can't add them to your Legal Center or to any Groups. Instead of publishing, you "lock" the draft of a Contract that you upload as you send a signature request. You can still make changes to the draft, though. Just like with published Contracts, you can make a new version. You can even pause a Signature Request you already sent to make a new version of the Contract for the Signer to sign.


Uploading a Contract
These steps show you how to upload a Contract right when your sending your Signature Request.
Starting on the dashboard, click the Send Contracts button to get started. You'll see two options for choosing a Contract: Upload a contract or Select an existing contract. Choose Upload a contract to display a navigation window where you can choose a Contract from your own system. You can upload PDFs or Microsoft Word documents.


2. Next you'll have a chance to edit the uploaded Contract to change the title, add text, signature fields, tokens, and check boxes. You can find out more about the editing tools for Word docs in the Formatting and adding fields to Word Contracts. You can find the same info about PDFs in Formatting and adding fields to PDF Contracts. Make your edits and click Save.

3. When you're ready to send the Contract, head to the nav bar on the right-hand side and click the Signers tab. Enter the email address(es) of the Signer(s) to whom you want to send the Contract.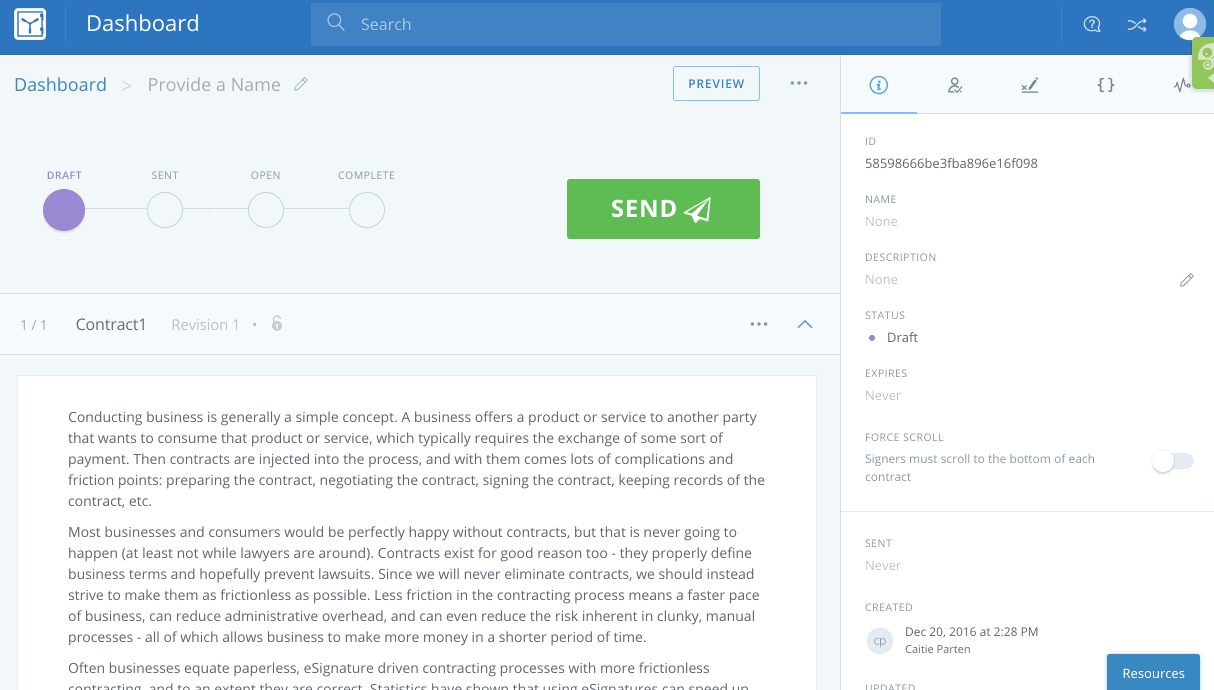 4. After you add all the Signers and assigned all the fields, you're ready to send your Contract. Click the SEND button to enter a message to your Signer about the Contract that you are sending. Optionally you can add a "Name" to the request before or after sending in your message.
image