This topic will introduce you to the new Ironclad Clickwrap Experience.
Welcome to the new Ironclad Clickwrap experience! This is the next generation of Ironclad Clickwrap with an updated user experience and powerful new features. The classic experience isn't going away just yet, but most of what you do day-to-day should be available in the new experience.

As we update our library of Help Center topics, use this topic for an overview of everything you need to know to get started!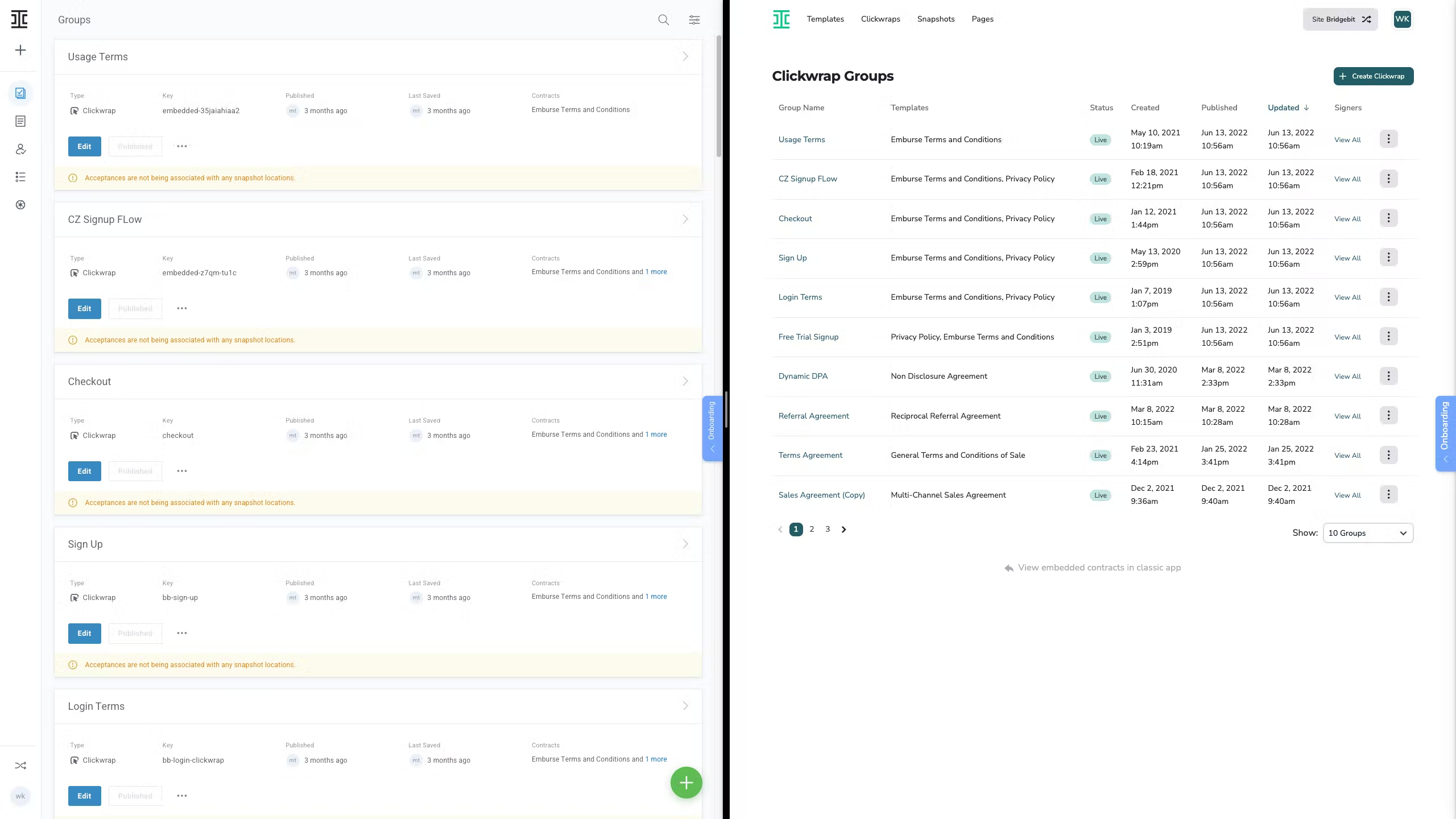 Skip To:
---
Updated Terms in the New Ironclad Clickwrap Experience
A few things have been given updated names in the new experience. Use the table below as a quick reference guide:
| Classic | New Experience | Description |
| --- | --- | --- |
| - | Dashboard | The Ironclad Clickwrap Dashboard is your starting point to create new Clickwraps, navigate to recently updated Templates/ Clickwrap Groups, and understand utilization across your site. |
| Groups | Clickwraps | Clickwraps are the actual, published legal agreements presented to your counterparties. These were called Groups in the classic experience. |
| Contracts | Templates | Templates are documents or files that you can prepare, format, and save to send at a later time. These were called Contracts in the classic experience. |
| Signers | - | Signers provides a list of every individual that has agreed to any of your Clickwraps. This view is not available in the new experience, but a list of Signers is available for individual Clickwraps. |
| Activity Log | - | The Activity Log provides a list of activity across your site, including visited, displayed, and agreed events. This view is not available in the new experience, but an activity log is available for individual Clickwraps. |
| Snapshots | Snapshots | Snapshots allow you to generate and capture visual evidence for your Clickwrap agreements at scale. These are only available in the new experience. |
---