*NO LONGER BEING SOLD*


In short, identity confirmation is one quick step to add even more security to your Signing process. When you send a Signature Request with Identity Confirmation, the Signer will see a screen asking them to confirm their name, company, and job title before signing the Contract.
Turing on Identity Confirmation for a Signature Request
When sending a Signature Request, you can turn on Identity Confirmation on the Signer's tab. The Request can't be complete for you to turn on Identity Confirmation: if the signatures are all complete, there's nothing left to confirm! But go can go back and turn on Identity Confirmation after you've sent the Request but before the Signer has signed if you pause Signing.

The animation below shows you how, and the words under that spell it out.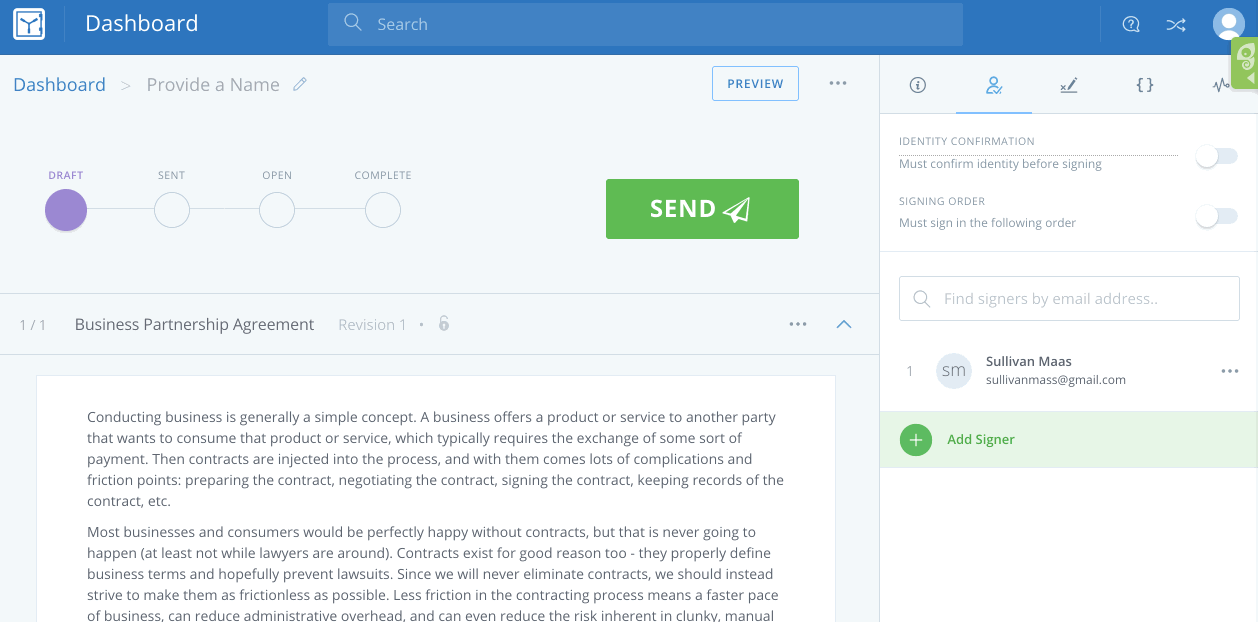 Use these steps to turn on Identity Confirmation:
If you're not already in a Signature Request, open the one you want to add Identity Confirmation to. From the Dashboard, you can click a Signature Request from the list. Use the magnifying glass to search for a Signature Request if you need to.

Using a toggle on the Signers tab in the right hand menu above "confirm signer identity." Selecting this option will create an additional screen for signers to fill out after they click "Review Contract" in the signature request they receive via email.
The signer can confirm their identity and continue to the contract, or delegate signing to another party by entering their email.


Why Should I use Identity Confirmation?
Using identity confirmation adds another step to signer authentication by asking to confirm personal information before moving forward to complete the contract. This is also the way in which a signer can be delegated. This is useful if Legal Counsel, or a department head are responsible for final signature, but the contract was sent to the correspondent.