*NO LONGER BEING SOLD*


If you are an Admin of a Professional of Enterprise Edition account, you can control the look-and-feel of the emails that PactSafe sends to your Users and Signers. If you don't know what we're talking about, check out a summary in the document called Emails from PactSafe.
To summarize the summary, here's the kinds of emails whose Templates you can customize:
Clickwrap Acceptance Confirmation: A notice we send to Signers after they accept a clickwrap Group. Refer to Clickwrap Acceptance Confirmation Email
to learn more about this setting.

Send Hosted Form: An email one of your Users initiates to one or more Signers to accept a Hosted Form Group. Learn more about Hosted Forms.

Send Signature Request: An email one of your Users initiates to one or more Signers to request a signature. This Template also controls the look of the "Reminder" message that Users can send from the PactSafe Request detail screen.

Signature Request Complete: A notification to the Sender and all Signers and Recipients to let them know that a Request has been signed by all parties.

Signature Request Expired: A notification to the Sender and all Signers and Recipients that a Request has expired.

Signer Activity Notification: A notification to the Sender to say someone new has signed the Contract and show what percentage of Signers have completed it.


There are a few emails that you can't currently customize. These emails are messages from your PactSafe account to your internal Users--never to Signers--so it makes more sense for them to keep the PactSafe branding.
Clickwrap Notification: The notification email that goes to the notification email address you set up in your Group.

Electronic Record Notification: An email the system sends to a PactSafe User when it generates an electronic record for any Signer in the application.

User Invitation: An invitation to PactSafe Users to log in or register their username.

Export notifications: The confirmation email with a link to a CSV file for when you export signers, dashboard details, or activity from PactSafe.


Use these steps to update an email Template:
Click the circle with your initials in the lower-left corner of your screen.

Click Settings. The Settings panel appears next to the toolbar.

Choose Emails from the Settings panel. A list of the email Templates you can edit appears so you can choose the one you want to customize.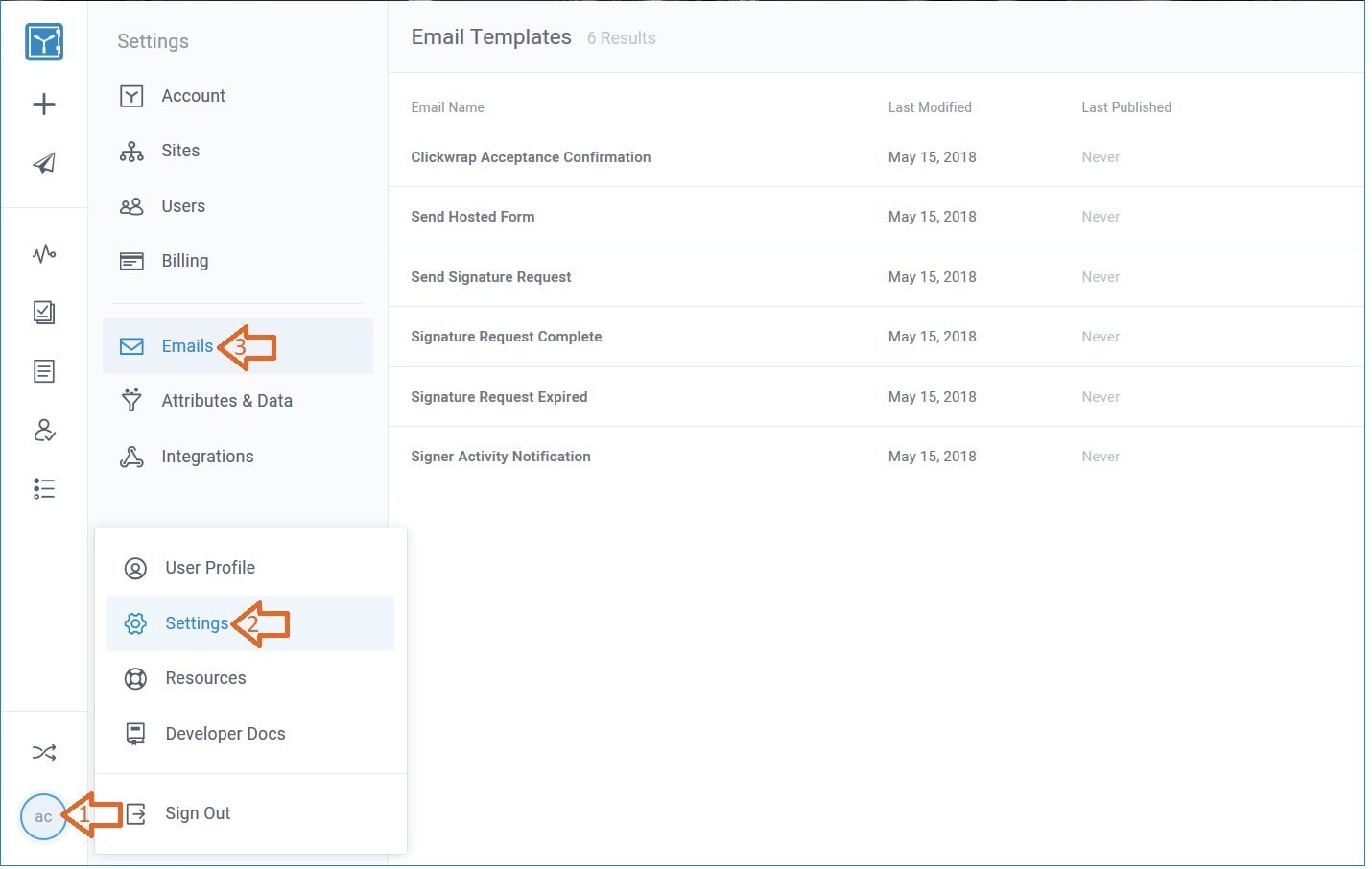 Just click the email Template you want to change and update the code. You can save your changes any time and revert your changes back to the default code using the Reset to Default button on the ... menu next to the Publish button. Your changes won't start affecting emails until you Publish the Template. Any emails that are already queued up to be sent when you Publish the Template will have missed the new Template boat.


Fair warning: the email Templates are all HTML, CSS, and PactSafe Tokens. If you're not comfortable with those things, you're probably going to find this screen pretty unfriendly. Drop us a line if you need some help.


For more info on Templates, check out the individual Template documents:
Tip: As soon as you make a change in the code, a preview of your Template appears on the right side of the editor so you can see what your changes look like.