This topic will walk you through the settings in the Sign tab.
There are a variety of settings that you can configure in the Sign tab. To access these settings, click on the Workflow Designer tab and select the workflow configuration you want to modify. Click the Sign tab, and then click Settings. Review the content below to learn about each setting that you can configure.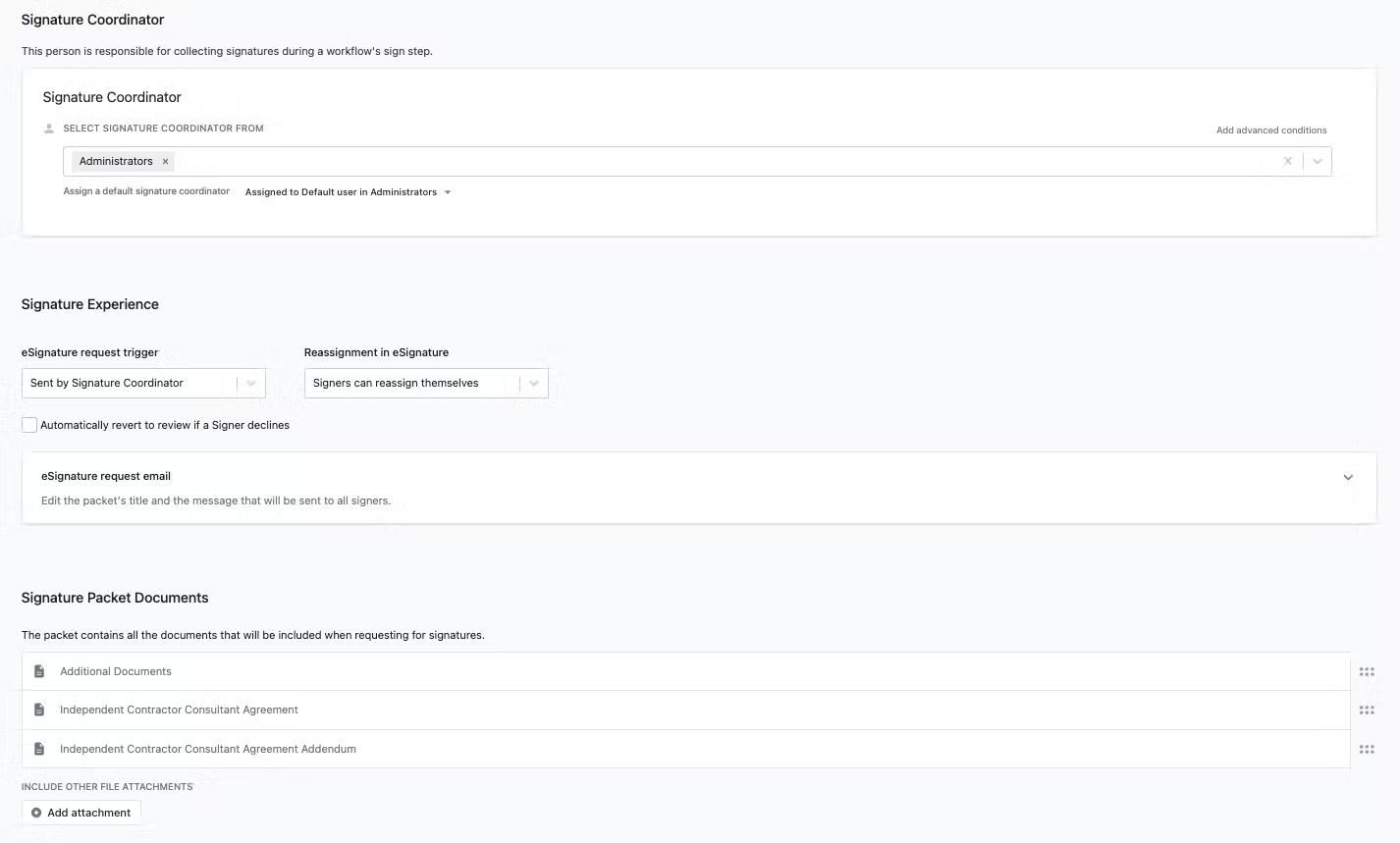 Skip To:
---
Signature Coordinator
Signature coordinators manage signature collection for your workflows. The signature coordinator's responsibilities include:
Choosing when to send the signature packet to the signers via eSignature.
Confirming any fully or partially signed packets uploaded by other users.
Managing and editing who signs and in what order.
When necessary, placing signature tags on the document before it is sent out for signature.
You can Signature Coordinator Role so that the role can be reassigned to someone else in the group when necessary. By default, the signature coordinator is the owner of the workflow.
---
eSignature Experience
There are three eSignature Experience settings:
eSignature request trigger
You can define when you want the eSignature request to be triggered. You have two options:
Automatically sent after last approval
Sent by Signature Coordinator
Reassignments in eSignature
You can define whether or not signers can reassign their role. You have two options:
Signers cannot reassign themselves
Signers can reassign themselves
eSignature request email
You can customize your eSignature request's packet title, as well as the message that will be sent to all signers.
---
Signature Packet
You can edit the document's ordering and add file attachments uploaded from the form builder.

You can add a file attachment field to your launch form to allow users to add file attachments. However, only certain file types are included in the signature packet.

The following file types can be uploaded for file attachments included in the signature packet:
---