This article will walk you through how to enable and use Click-to-Accept.
Ironclad's Click-to-Accept is a way for your users to accept agreements within your CLM workflows with a single click. This feature can transform your standard, eSignature workflows into Clickwrap agreements.

When an agreement is sent to your counterparty for review, they must click Review Contract. They are then taken to their Click-to-Accept agreement. Once your counterparty agrees, Ironclad updates the executed agreement and the workflow is complete.

If you want to learn about public workflows, refer to Public Workflows in Ironclad.

If you want to learn more about Ironclad Clickwrap, refer to the Ironclad Clickwrap section of our Help Center
---
Enable Click-To-Accept
To access Click-to-Accept, you need to have access to Clickwrap for CLM, and connect your Ironclad CLM and Ironclad Clickwrap environments.

If you're not sure if you purchased Clickwrap for CLM, reach out to support@ironcladhq.com.
---
Use Click-To-Accept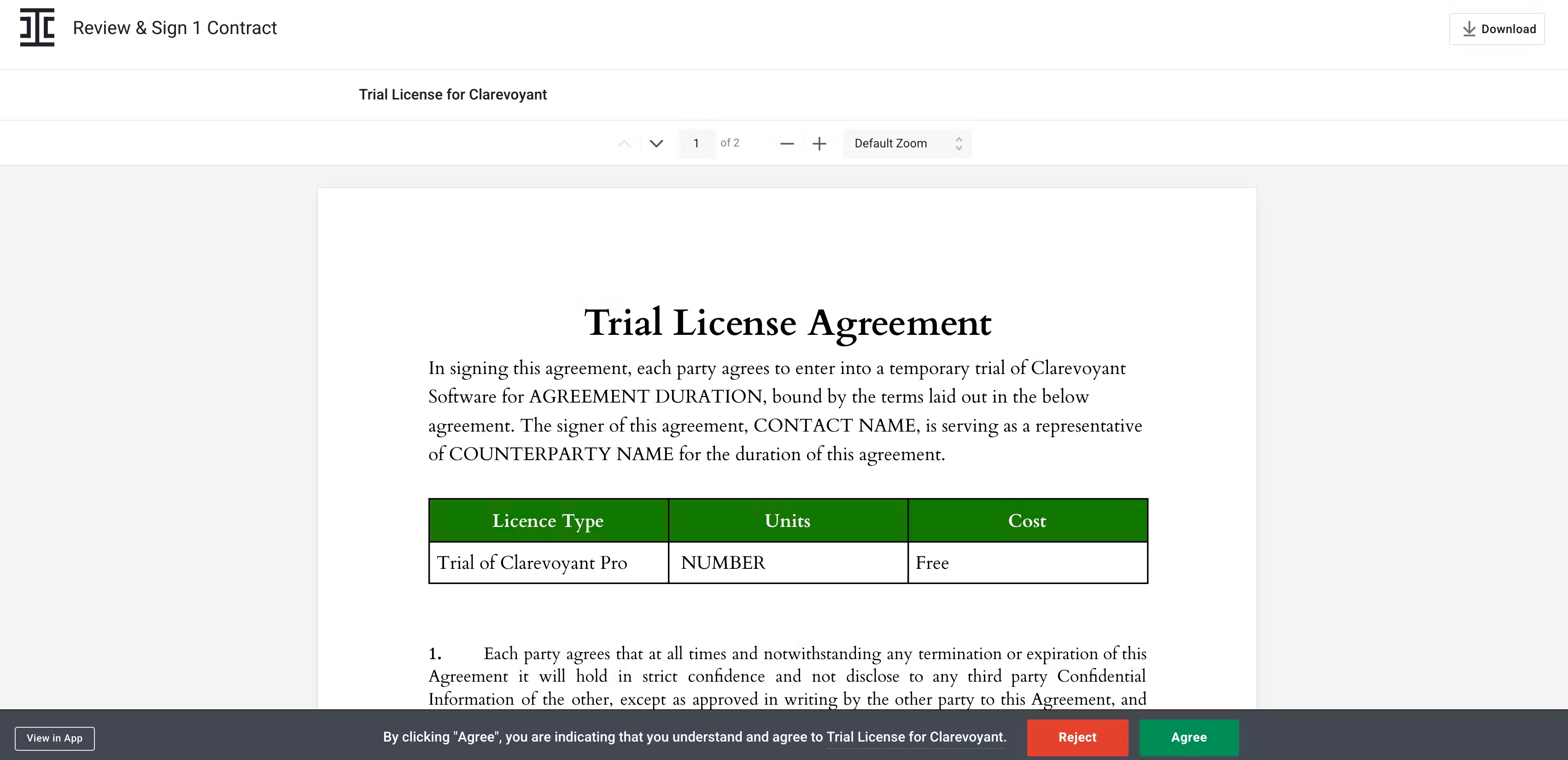 Create a new workflow, or select an existing workflow in Workflow Designer.
Remove any signer role tags, as signature and initial blocks are not used with Click-to-Accept agreements. If you have signer role tags, you will receive an error when you select Click-to-Accept.
Click the Sign tab > Settings.
Locate the Signature Experience section. There are two options: Click-to-Accept and eSignature. Click Click-to-Accept.
Select a record type.
If you want your counterparty to be redirected to a specific URL after they sign:

Locate the Acceptance Experience section and toggle on Redirect counterparties to a url after they accept.
Enter the URL you want the counterparty to be redirected to.

If this feature is not enabled, the counterparty is redirected to a default page.

Click Publish. Your workflow using Click-to-Accept is live.