This topic reviews the Document Tab in Workflow Designer and how it allows you to manage documents in a contracting workflow.
Document Tab
The Document tab in Workflow Designer offers a variety of features to help you build your workflow template.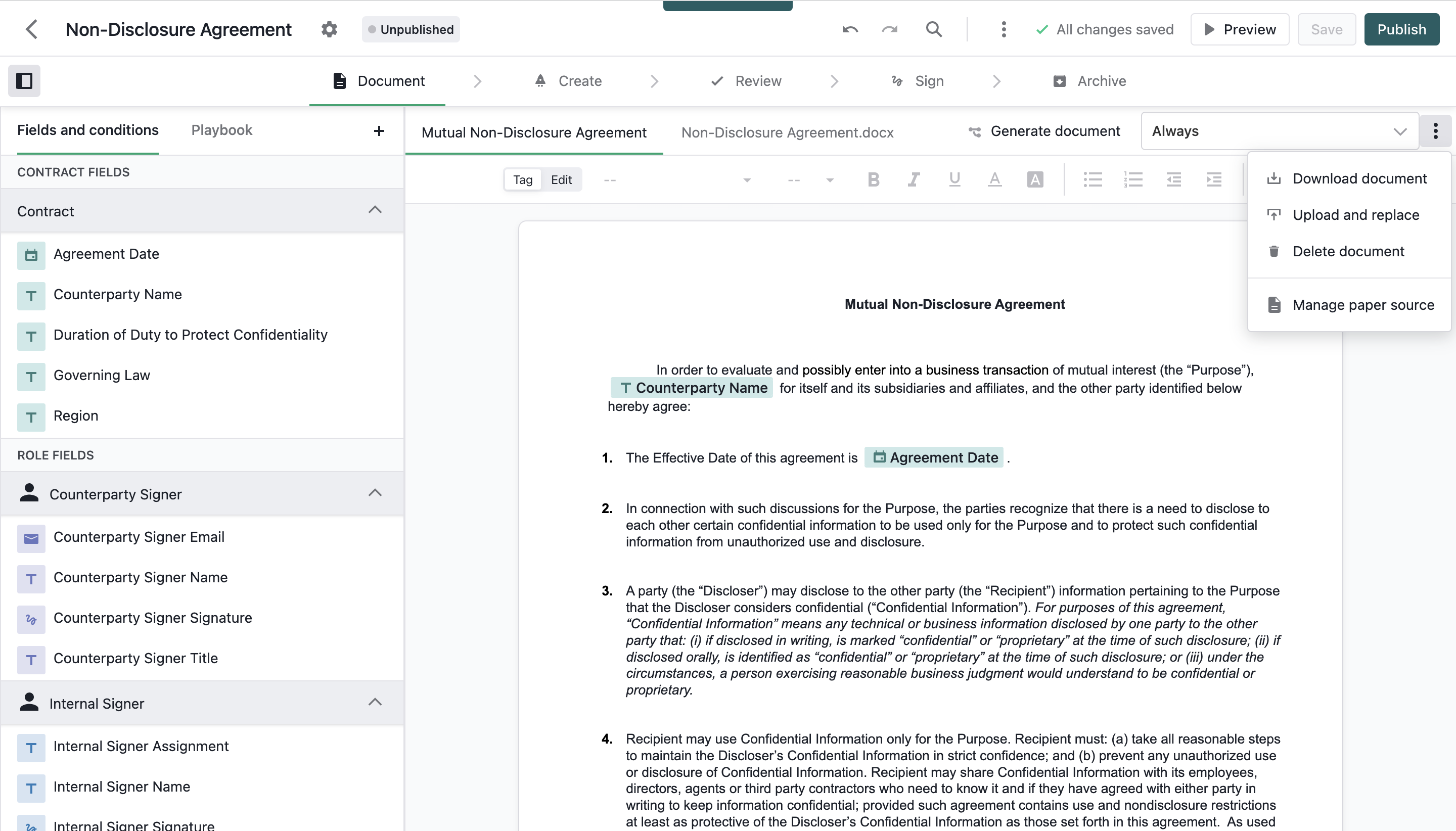 Feature
Description
Fields and Conditions
Fields and conditions enable you to select areas of the template text that you want Ironclad to replace with a tag, such as the agreement date and the parties' names. When a party fills out the launch form, the information they provide will replace the corresponding tags.
Playbook
Playbooks enable you to standardize use and substitution of clauses in your contracts. You can build a playbook that walks your team through standard language and approved clauses in contracts. This empowers legal teams to delegate reviews and revisions, only requiring escalation if your playbook does not provide adequate support for your specific use case.
Tag/Edit
Click Tag/Edit to toggle between tag and edit mode. In tag mode, you can tag your document with fields and conditions. In edit mode, you can make changes to your template text.
Generate Document...
Define when the document is generated in the workflow. The default is Always, but you can select one of your created conditions to define when the document is generated.
Workflow Template Magnification
Toggle the magnification level to zoom into your workflow template.
Document Options (Indicated by Three Stacked Dots)

The Document Options menu enables you to Download, Upload and replace, or Delete your document. Download will produce a Microsoft Word copy of your workflow template.

You can also Manage paper source of your workflow template. You can rename the file as it appears in the Document tab by editing the workflow template's paper source.
---